City Long Framed as Artist Enclave
REAL ESTATE: Inglewood's low costs big draw for studios.
Friday, May 27, 2016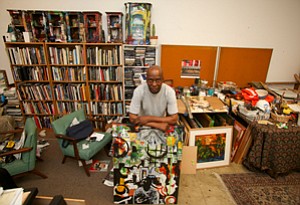 The 4,445-square-foot building benefitted from an Inglewood ordinance passed two years ago that allows for live-work uses in six areas of the city – an ordinance that local artists fought for years to create.
The ordinance could open up opportunities for developers and artists, but it's not yet clear if many landlords will make the investments needed to bring aging buildings up to code, such as installing fire sprinklers. Also uncertain is whether artists would cough up market-rate rents.
Designs on growth
It's not just studio artists who are scouting for space in Inglewood. Onna Ehrlich and her husband, Joel Bell, gave up leases in Culver City and downtown Los Angeles to buy a 4,800-square-foot warehouse for $700,000 in a space zoned for light manufacturing. The property has been repurposed for offices, showrooms, and manufacturing space for Ehrlich's eponymous handbag company and her spouse's firm, Joel Bell Industrial Design.
"It's one of those places where you can find inventory," Ehrlich said of Inglewood, where she and Bell have a house. "It's still affordable compared to Culver City, Venice, and Playa Vista."
Owen Smith landed in Inglewood when he discovered a decades-old theater that had sat empty for years, much like other neighboring storefronts. Smith is in the process of buying the 8,000-square-foot venue for about $1 million and plans to convert it into a music hall for local artists.
The venue represents a new career path for Smith, a cinematographer who rents camera gear through his company Wandering Pictures.
"I recognize that Inglewood already has character, already has history, and has a great community," he said. "I just see so much opportunity."
The stadium waiting game has already begun in Inglewood, with some developers snatching up property around the site where the 2021 Super Bowl is scheduled to take place. But brokers call it all speculation.
"Nobody knows what the properties are going to be worth, because you can't really compare anything," said Clarke.
Prev Next