SPECIAL REPORT: Peter Guber: Running Up Big Scores
Blockbuster film producer Peter Guber has expanded beyond Hollywood hits to running sports teams, including NBA champs Golden State Warriors, by maintaining his focus on providing entertainment value
Friday, March 25, 2016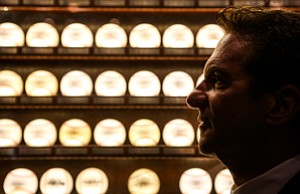 The lecture hall at UCLA's Anderson School of Management was packed with some 80 M.B.A. students, listening in rapt attention to the man at the podium whose trim build, brown hair, and sheer energy belied his 74 years. Indeed, Peter Guber would fit in among most professors at the Westwood university. But his speech about leadership skills on a recent evening drew from hard-won experience, not book learning.
"You have to really emotionalize the offering," Guber said in a husky voice that retains more than a hint of the brogue of his Boston youth. "Just look at that dumbbell running for president! When you're running a business, you have to shape that emotion inside a proper narrative. Otherwise, you'll never hold the attention of your audience."
Guber has commanded the attention of audiences for more than four decades, from producing Hollywood blockbusters in the 1970s and '80s to his latest passion, professional sports. In addition to minor league baseball and professional soccer teams, Guber has taken stakes in the Los Angeles Dodgers and reigning NBA champs the Golden State Warriors.
"He's the first in the room to remind everyone that we're competing against every other form of entertainment in the marketplace, and we should never forget that," said Adam Silver, commissioner of the National Basketball Association.
As different as film and sports might be, they still rely on putting audiences in the seats and drawing viewers to the screens. And in that, Guber has excelled.
"He views sports as a passionate form of entertainment," said Bob Bowman, president of business and media for Major League Baseball. "While we all understand sports as a competitive process with a score at the end of it, every owner has come to realize it's an incredibly valuable piece of entertainment."
For his varied contributions to the entertainment and sports industries in Los Angeles, the Business Journal has named Guber the Business Person of the Year. He joined the Business Journal's Business Hall of Fame at a luncheon March 23 at the Millennium Biltmore Hotel in downtown Los Angeles.
Curious kid
Howard Peter Guber was born in 1942 near Boston, the youngest of three sons of a metal broker father and stay-at-home mother. He loved to see the Boston Red Sox play at Fenway Park and to tinker with electronics.
"I was a curious kid," Guber recalled. "I would do science fair projects, building big transmitters and receivers and antenna displays to be able to build electronic equipment to speak around the world."
For reprint and licensing requests for this article, CLICK HERE.
Prev Next