Powering Up
Faraday's electric cars may hit hurdles on road
Sunday, January 24, 2016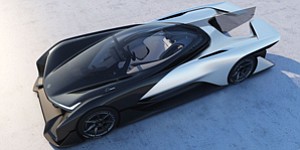 Gardena's Faraday Future has its foot on the gas.
In its first two years of existence, the autonomous electric car company has hired more than 750 employees and begun development on a $1 billion factory in Nevada as part of its ambitious goal of putting a vehicle to market by next year.
"We're embarking on nothing less than a complete rethink of what mobility means," said Nick Sampson, senior vice president of product research and development, at the Consumer Electronics Show in Las Vegas on Jan 4.
Yet industry observers said the company's big goals might be hard to achieve given its market position, organizational structure and stiff competition.
For instance, the release at CES of Faraday's first concept car, the FFZero1 Concept, raised eyebrows. The Batmobile-like vehicle concept Faraday displayed claimed performance of 1,000 horsepower, the ability to go from zero to 60 miles an hour in less than three seconds and a top speed of over 200 miles an hour. However, those specs are all theoretical at this point, because the car on display was not functional. So Faraday's rumored "Tesla Killer" could be a way off.
Despite the company's deep ranks of veteran engineers, including executives from Tesla Motors Inc., Ferrari and General Motors Co., the company has yet to name a chief executive and appears to be struggling to maintain its focus after launching in 2014.
"Right now, you have amazingly creative people who don't have proper supervision," said a source with knowledge of the situation who was not authorized to comment publicly on the matter. "It would seem they've got world-class designers that have been let off the leash and are designing whatever they want. If CES was any indicator, the designers are kind of running the show."
The company has also spent time on far-out projects, such as a race-car helmet that can supply oxygen and water and proposed aromatherapy features for yet-to-be developed electric cars.
Beyond those initiatives, the company has some sound ideas, say industry experts, such as its Variable Platform Architecture, which could make production more efficient.
But in order to leapfrog the existing electric car industry, Faraday will not only have to refocus, but also build out car dealerships and service centers, according to experts. It will also need a savvy business model, a feature of its ambitious plan that the company has yet to disclose.
Faraday declined to be interviewed.
Prev Next