Lofty Goal
Developer looks to put new museum on display
Originally published February 22, 2016 at 9:20 a.m., updated February 22, 2016 at 9:20 a.m.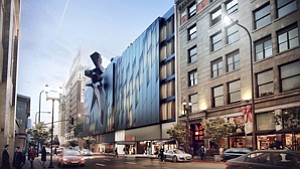 Tom Gilmore is at it again.
The same developer who ignited downtown L.A.'s revitalization efforts about 15 years ago is about to begin construction on his most ambitious project – an elaborate contemporary art museum that will weave in and out of multiple buildings.
To be named the Main Museum of Los Angeles Art, it will be in the Old Bank District, the neighborhood where Gilmore long ago snapped up several historic buildings and later transformed them into downtown lofts.
"I'm not interested in buying another building and redeveloping another building; I already know how to do that," he said. "I'm interested in doing something I don't know how to do."
Construction on the first of five phases is slated to begin within the next month and a half, he said. But it could take up to four years to complete his entire 45,000-square-foot museum and 30,000-square-foot rooftop sculpture garden. He estimates the whole project will cost about $55 million to build.
Art enthusiast Gilmore has long dreamed of building his own museum and the focus of this one will be on local artists and L.A.'s contribution to the world of art.
"The timing just seemed right for it," he said. "We thought we could change how the buildings here were being used."
Meantime, Gilmore just put two nearby properties – the San Fernando and Continental buildings – on the market last week. Both historic properties, which are among those he redeveloped into lofts, are expected to play into his grand vision because one is to be a boutique hotel – giving museum visitors a place to stay.
What's more, three other buildings in the neighborhood that aren't owned by Gilmore are also listed for sale, according to Fred Cordova, an executive vice president at Beverly Hills brokerage Kennedy Wilson who's listing both of Gilmore's properties. The vision is to sell those buildings to boutique hotel operators or convert them to lofts or creative office space, Cordova said.
"The concept behind the museum is to provide a real reason for the Old Bank District neighborhood to have cachet," he said. "What they're doing now is looking at their other buildings to be connected to it."
Early endeavors
Gilmore and his business partners formed Gilmore Associates in 1998 to buy and renovate downtown historic buildings that had long been abandoned.
The company later became the first developer to use L.A.'s adaptive reuse ordinance, which expedites the approval process for projects aiming to convert the city's older and obsolete buildings into new housing units.
For reprint and licensing requests for this article, CLICK HERE.
Prev Next