ACQUISITIONS: BEACON, CIM BUY LAND BENEATH ONE, TWO CAL PLAZA.
Owners Land Ground Beneath Office Properties
Friday, December 16, 2016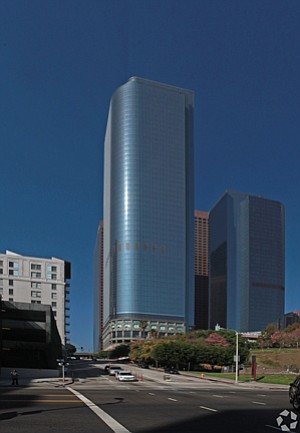 The owners of two iconic office towers on downtown's Bunker Hill now own the land on which they sit.
In deals that closed late last month, Beacon Capital Partners purchased the land beneath One California Plaza for $33.4 million, and CIM Group picked up the parcel under Two California Plaza for $70 million, according to public records.
The parcels, part of a six-acre plot, were sold by CRA/LA, the former Community Redevelopment Agency for the city of Los Angeles. The entity, dismantled in 2012 amid state cutbacks ordered by Gov. Jerry Brown, began selling off its assets last year, assisted by Cushman & Wakefield's Marc Renard, Manfred Schaub, and Jimmy Chai.
The portfolio of 50 assets included odd slices of land such as a 556-square-foot parcel in Pico-Union and a 25-square-foot strip of land in the Hermon neighborhood north of downtown. Prestigious sites were part of the portfolio as well, such as the land beneath downtown's Colburn School, the ArcLight Hollywood parking lot, and the land occupied by One and Two Cal Plaza.
The sleek blue towers were constructed on land owned by the CRA at a time when Bunker Hill was a nascent office market. One California Plaza, built in 1985, has 1 million square feet on 42 floors. Tenants include Aecom, Morgan Lewis, Nixon Peabody, and Bank of the West. Two California Plaza was built in 1992 and has 1.3 million square feet on 52 stories. Merrill Lynch, Reliance Steel, and BlackRock are among the companies on its tenant roster.
Beacon and CIM had 66-year leases on the buildings, paying an annual rent of $3.2 million and the right of first refusal to acquire the land if it came available. Beacon picked up its building for $144.5 million in 2013, and CIM swept in the following year to buy the neighboring tower for roughly $297.7 million.
Two California Tenant
Things got even rosier for CIM at Two Cal Plaza last week.
The company announced that City National Bank has signed a long-term lease there for 11 floors totaling about 300,000 square feet.
According to CIM, the bank will be an anchor tenant whose agreement includes prominent building signage and the rebranding of the property as CityNational@2Cal. Renovations are planned to begin next year, with occupancy in 2018.
The lease is the building's second major transaction in the past year. In December 2015, law firm Munger Tolles & Olson signed a lease for 150,500 square feet on five floors and part of a sixth, CIM said. The firm is expected to move in early next year.
Prev Next