Offices Created In Arts District
REAL ESTATE: Developers tap hipster haven for projects.
Friday, August 5, 2016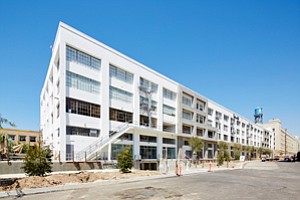 *This story has been updated from its original version.
Downtown's Arts District has amassed fashionable cafes, eateries, and bars along with apartments and condominiums. Even an outpost of exclusive Soho House is on the way. Now the offices are moving in, with several major projects set to offer roughly 2 million square feet targeting media, entertainment, and tech companies.
They just need tenants.
"It's not a marketplace where people are stampeding to go," said Ian Strano, executive vice president at NAI Capital. "There are a lot of looky-loos."
Agents representing Arts District projects are, unsurprisingly, more optimistic about an area they say just needs one notable tenant to jump-start leasing action.
That big fish was almost landed.
BuzzFeed was said to have had a deal to take 200,000 square feet at the Ford Factory at Seventh Street and Santa Fe Avenue, but ended up pulling out. There is now buzz in the market that Warner Music Group is interested in leasing the site, which could prove to be the pioneering deal the neighborhood needs inked before more companies decamp to offices set among seafood wholesalers and toy manufacturers.
"We're a matter of months, as opposed to years, away from the market really picking up energy and signing a bunch of big, notable deals," said CBRE's Daniel Rainer, who is leasing office space at the At Mateo retail development. "Once the first market-setting deal happens, I think we'll see an influx of activity."
The area's industrial, artsy vibe makes it desirable and unique, said CBRE broker John Zanetos, who is leasing the 254,000-square-foot Ford Factory.
"People are coming from all over Los Angeles and Southern California to come and experience these things," he said. "Those are the bellwether signs for innovative companies to start looking at options to move their offices."
What comes last
The neighborhood earned its moniker in the 1970s when artists settled in cheap lofts and warehouses amid the manufacturers wedged between downtown and the Los Angeles River. The arrival in the Arts District of the Southern California Institute of Architecture, which moved to a renovated quarter-mile-long Santa Fe Railroad depot from Playa Vista in 2001, marked a turning point in development.
As downtown's renaissance began, interest spilled over to the Arts District, attracting residential developments, restaurants, cafes, bars, and shops – often in aging factories and warehouses alongside seafood and produce distributors, scrap metal yards, and truck depots. The results became the stuff of Instagram legend: ricotta dumplings at Italian restaurant Bestia, gourmet espresso at Blue Bottle Coffee, banana cream pie at Pie Hole, and country singers and beer at Villains Tavern.
Prev Next