Incubator Turns Up Heat With Additional Services
TECHNOLOGY: Science credits system for successes such as Dollar Shave Club.
Sunday, June 28, 2015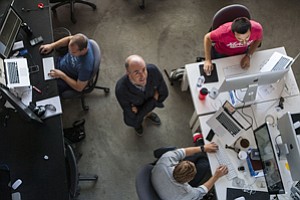 "There was a time when marketers thought, How do you get the cheapest traffic to your site?" he said. "We've realized the better approach is: How do I spend the most amount of money to beat the competition?"
Influencer marketing is another vital component of Science's growth strategy. Two companies in its portfolio, Famebit and HelloSociety, work with other Science startups to help them acquire customers by crafting campaigns on YouTube, Instagram, Vine, Pinterest and Snapchat, which feature popular users on those platforms known as influencers.
That approach was a key selling point for the newest company under Science's roof, Quarterly Co., a subscription service that sends customers gift boxes filled with items hand-picked by celebrities every three months. Science became a minority investor earlier this month.
"Famebit was our first conversation," said Quarterly founder and Chief Executive Zach Frechette. "We are excited to take advantage of all the resources that Science has to offer."
The growth strategy has worked so well that Science has spun off its media and marketing team into a company called Science Growth Labs, which offers its services to third parties such as Marina del Rey e-card maker JibJab Inc., and a number of others.
With breakout successes such as Dollar Shave Club and online dog-sitting service DogVacay, which raised a $25 million Series B round in November, the opportunity to work with Science's team comes at a price.
While an accelerator like Venice's Amplify.LA will take an equity position of between 5 percent and 15 percent in exchange for a $250,000 to $500,000 investment, Science often takes a bigger cut, though Jones, its chief executive, said there are no set terms in place and every deal is different.
"There's no benchmark for equity or ownership," said Jones. "It's a different way to approach investing and building companies."
But Canyon Creek's Jordan said that even though founders might be giving up more equity up front, it could pay off down the line thanks to the shortened learning curve that Science's team provides.
"You're going to give a larger portion of equity, but you're probably going to raise at a higher valuation" in subsequent funding rounds, he said.
Gil Elbaz, founder and chief executive of Century City location data company Factual Inc., said Science's investment and operational approach is often useful for solo founders without a large team around them.
"Many sole founders express how lonely it is to be held accountable all by themselves," said Elbaz, who's also a founding partner at Century City venture capital firm TenOneTenVentures. "Science kind of acts as an alternative to looking for a co-founder. With the vested interest they have, they're really going to roll up their sleeves."
Prev Next
For reprint and licensing requests for this article, CLICK HERE.