Firm Took Marketing Path To Stand on Immigration
INTERNET: MiTú viewed Donald Trump uproar as means to engage audience.
Sunday, July 19, 2015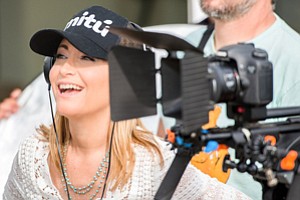 One of the company's producers rushed to USC's campus and walked around gathering student reaction to Trump's comments. The 90-second-long video was posted to Facebook within 24 hours and has racked up 4 million views since June 17. A second video, also first posted to Facebook, has earned the same number of hits.
The decision to use Facebook rather than YouTube, the platform on which MiTú built its brand, might prove to be a watershed moment. Facebook's video service is now rivaling YouTube in terms of popularity among content creators, and the move by MiTú is an acknowledgement of its growing influence.
"We have seen more virality on our Facebook videos, especially those of this nature," said Acevedo. "The way in which audiences consume and share content on Facebook is much more voracious."
Talking politics
While MiTú's hashtag campaign might not have been the product of corporate strategy meetings, it can be viewed as a positive marketing tool, said Alysha Light, an L.A. publicist who works with several tech companies.
In a July 2 opinion piece for Digiday, a website that covers the digital marketing industry, Light argued that brands should not be afraid to embrace socially conscious campaigns online, such as the recent #LoveWins movement that kicked off in late June after the Supreme Court legalized same-sex marriage.
Light said in an email that millennial consumers, such as MiTú's audience, want brands they patronize to facilitate dialogue around the conversations that matter to them, in real time.
"We're seeing more companies and brands participate in social change in a way that we've never seen before, and I would imagine we're going to see more engaging in similar social causes," Light wrote, noting that doing so can help increase awareness for the company, which in MiTú's case, means its creators and their channels.
Ira Kalb, an associate professor of clinical marketing at USC's Marshall School of Business, agreed that more brands seem willing to take a stand on political issues, but this can backfire, too, as it did for Hapeville, Ga.'s Chick-Fil-A in 2012 when its chief operating officer publicly opposed gay marriage.
But MiTú's campaign started off on firmer ground, said Kalb, since Trump's comments took aim directly at the firm's core consumers.
"I don't think it would be very risky for them," he said. "You really have to look at your audience and see if it's going to strike the right chord."
Going forward, expect more political content from MiTú, said Acevedo. Bolstered by the response to the #Imnotacriminal campaign, the company is launching an initiative during Hispanic Heritage Month in September that will carry through election season. MiTú hopes to keep its influencers and audience engaged online in a dialogue about issues that are important to them, such as affordable housing, rising college tuition costs and immigration policy.
"I don't think millennials know how powerful their voices can be," said Acevedo. "We really want to spark awareness of these issues because we want them to understand they have a stake in the outcome."
Prev Next