Battle Ready
PR exec looks to revive career after prison stint
Monday, January 19, 2015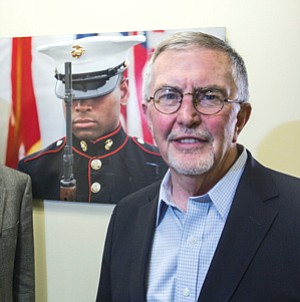 Doug Dowie, who's often described as "tough," "blustering" and "hard-charging," has seen plenty of fights. After all, he was a Marine who served in Vietnam, he was a pugnacious editor at the Los Angeles Daily News and he was the subject of a criminal trial that ended in his imprisonment on fraud charges related to overbilling the Department of Water and Power for public relations work.
Now, at 66, he is in the beginning stages of another fight: rebuilding a career at a time many of his colleagues are retiring or thinking about it.
Dowie finished his sentence 11 months ago and in the summer hung out a new shingle, Evolution Communications. He still has just one client and less than a handful of freelance associates, and he works from home. He realizes some people might not be able to look beyond his past and that it will take a lot of work to get even close to where he was before.
"To some people, I have more baggage than the Queen Mary," he said.
At one time considered one of the most powerful public relations executives in Los Angeles, Dowie was general manager of Fleishman-Hillard Inc.'s L.A. office from 1998 to 2004. It was there that Dowie helped the firm secure a $3 million annual contract with the DWP, a deal that would ultimately become his undoing.
Amid a swirl of pay-for-play allegations during the administration of Mayor James Hahn, a jury convicted Dowie and a co-worker in 2006 of conspiracy and wire fraud stemming from charges that they overbilled the DWP by about $500,000.
Upon the advice of his lawyers, Dowie never took the witness stand in his defense, a decision he still regrets.
"My attorney said if we make the wrong decision here and you get convicted, you'll regret it for the rest of your life," Dowie remembered. "And I have now told him he was correct."
Persistence
Sitting at John O'Groats restaurant in West Los Angeles in early January and eating a bowl of oatmeal, Dowie, sporting a black shirt, circular-rimmed eyeglasses and close-cropped gray hair and goatee, continued to proclaim his innocence.
In order for Fleishman-Hillard to get paid on the account, the firm had to submit detailed hourly records of its work to the DWP. While Dowie doesn't deny that too many billable hours were turned in by his employees, he suggested he had no reason to overcharge the city because he never saw any of the cash; it went to the Fleishman-Hillard headquarters in the Midwest.
For reprint and licensing requests for this article, CLICK HERE.
Prev Next