Control Issues
INTERNET: Viral video firm Jukin Media looks to crack down on rival's website in move to enforce its licenses.
Sunday, August 30, 2015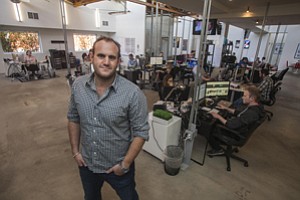 To do that, Jukin has gone to federal court, accusing Defy of copyright infringement, unfair competition and tortious interference with its business. If Jukin can prove that Defy employees posted the video, Defy would not be entitled to protection from litigation under the Digital Millennium Copyright Act's safe harbor provision. If not, Defy could be in the clear.
"That will be the key question here," said Jonathan Steinsapir, an intellectual property attorney and partner at Kinsella Weitzman Iser Kump & Aldisert in Santa Monica, who reviewed the case for the Business Journal. "If that is going on, it's pretty straightforward."
Unlicensed material
Jukin was founded by Jonathan Skogmo, its chief executive, who launched the company in 2009 after working as a producer on Country Music Television show "Country Fried Home Videos."
He was among the first to negotiate revenue-sharing agreements with video creators. Essner said the company often pays thousands of dollars for the rights to a particular clip. If those clips are licensed by other parties for use online or in television broadcasts, they could generate thousands more in revenue above what Jukin paid for them, in addition to ad money generated by Jukin on its own channels.
Some of the videos involved in the dispute with Break were allegedly posted on Break's proprietary video player, which means that Jukin could not use YouTube's internal complaint process to have advertising revenue redirected to it. That, coupled with the lost licensing revenue, means Jukin's potential lost revenue could stretch into the millions of dollars, though an exact amount is unclear.
Jukin also claims in court documents that when Defy began trying to obtain rights to videos from individual creators, the company spread "false and misleading rumors about Jukin and its business practices, in order to deter such video creators from licensing the video to Jukin."
Should they prove those charges in front of a jury, Jukin could be entitled to punitive damages, said Steinsapir.
A Defy representative did not respond to a request for comment. The company has until Sept. 3 to answer the charges in court.
Fair or not
Jukin is also dealing with the copyright issue on a separate front. The firm is battling popular YouTuber Ray William Johnson and his Beverly Hills production company, Equals Three, in U.S. District Court. It says in that case that it should be compensated for its clips used on his online series "The Equals Three Show," in which he humorously discusses popular clips. Nearly 11 million people subscribe to Johnson's channel and 140 million have watched episodes of the show since it premiered in 2009.