Latest Stage
INTERNET: Studios take direction from rising YouTube stars to expand accommodations for digital productions.
Sunday, August 23, 2015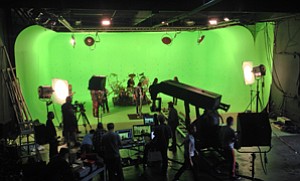 The Culver City studio that was home to the production of classics such as "Gone With the Wind" and "The Wizard of Oz" could soon be home to a new generation of stars, such as online video-gamer Felix Kjellberg (PewDiePie), creator of YouTube's most watched channel, or Vine sensation-turned-actor Cameron Dallas.
The owner of 100-year-old Culver Studios submitted entitlement applications earlier this month seeking approval of a renovation project that includes plans to attract more online shoots to the studio through a number of upgrades aimed squarely at digital video producers.
Hackman Capital Partners, a Westwood investment firm that owns the storied studio site, is investing millions of dollars in the effort. The application reflects how the traditional entertainment industry is moving toward digital-first producers.
Culver Studios was home to digital media firm Fullscreen Inc. until it decamped for Playa Vista earlier this year, yet attracting producers of online content hadn't been a priority. But it is now, said Michael Goldfarb, director of business development and strategic planning at the studio.
Even though its 13 soundstages are occupied, the studio decided it wants to grow its customer base beyond traditional film and TV companies. It plans to include specific amenities and build-outs that cater to online video creators, as well as the networks they work with. Such amenities will include improvements to the studio's electrical and broadband infrastructure and more office and digital production space.
"That's what we're figuring out right now by doing research and meeting with these companies to see what they're looking for," said Goldfarb, who noted that a construction timetable hasn't been approved yet. A decision on the studio's application is expected before the end of the year.
"We want to stay relevant for the next 100 years," he said.
Vertical integration
A few miles south of Culver City, Thunder Studios, a 150,000-square-foot production facility in Long Beach, has also spent money to lure online shoots.
It has upgraded its facilities to include better camera and postproduction equipment, improved physical sets and added other production gear. Separate stages specifically designed to shoot e-sports competitions and virtual reality content are in the works as well, and catering services and a new Starbucks are now on the site.
Thunder officials, who plan to operate the studio as a 24-hour facility before the end of the year, also declined to disclose how much was spent on renovations.
Rather than renting out its space to digital productions as Culver Studios plans to do, Thunder is offering up its facility for free in exchange for a cut of advertising revenue generated by content produced on site. The studio also said it could fund production costs of select online projects.
For reprint and licensing requests for this article, CLICK HERE.
Prev Next