Different Tune
Your Music gives crowdfunders slice of song profits
Monday, September 1, 2014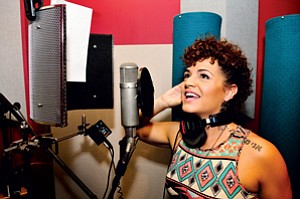 L.A. pop artist Georgia Jane can thank her grandfather for helping kick-start her professional music career – one that has turned out to be groundbreaking and, so far, unique.
While attending a wedding in the south of France in summer 2011, her grandpa sat next to a French music executive who was gearing up to launch an L.A. music label called Your Music Co. He suggested the exec check out Jane's music.
She did. Three years later, Jane, 30, has launched her first single, an up-tempo rhythm-and-blues track called "Do the Same for Me," and she's recording her debut album after raising $100,000 online using Your Music's crowdfunding model, which enables fans to become investors in an album and share in the profits. Jane is Your Music's inaugural artist.
While other crowdfunding platforms have been used to fund projects by individual music artists in the past, Your Music appears to be the only American label to exclusively employ the funding scheme and offer investors a stake in the success of the artists they back.
Artists are chosen to participate in Your Music's crowdfunding program through a process that starts with fan voting on the label's website. Artists must earn a total of 5,000 votes in order for fundraising to begin.
Jane reached that threshold, and about 270 people subsequently invested a total of $100,000 to fund her album. Unlike other crowdsourced projects that essentially act as pre-sales efforts, giving contributors a T-shirt or CD in exchange for a contribution, Your Music investors will split 25 percent of all net profits from album and track sales. Net profits are calculated after distributors such as Apple Inc.'s iTunes take their cut, typically 30 percent of the cost of a track or album.
Jane is the first of its musicians to successfully raise the money needed to produce her album, and the former wedding singer said she is making the album she's always dreamed of.
"I am very lucky that my grandpa went to that wedding," she laughed.
Taking slice
The rest of the income from her recording will go 25 percent to Jane, with Your Music taking the remaining 50 percent.
While fan investors take a slice of album sales, they don't participate in any other revenue streams such as concert fees or merchandising. Your Music, in Century City, funds each artist's marketing efforts, including music video production and social media campaigns.
Prev Next