Grave Matter
DEATH: Undertaking LA thinks mourners can live with its intimate, extended treatment of deceased.
Monday, October 27, 2014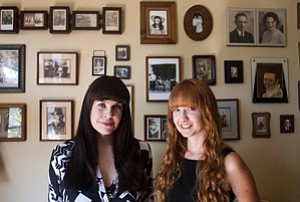 When Caitlin Doughty dies, she doesn't want to be embalmed or buried in a casket or even cremated. If she has her druthers, her formaldehyde-free body will be exposed to the elements, accelerating her natural decomposition.
That's odd, sure, but even more so when you consider Doughty is a professional mortician.
Of course, the firm she's launching next month, Undertaking LA, isn't a traditional funeral home. Rather, it's a consulting service for clients who want a very particular – and today very niche – type of funeral. One that isn't, as Doughty puts it, "hijacked and sanitized" by the funeral industry. She thinks of herself as something akin to a wedding planner but for funerals.
The mission driving Doughty's work is the return of responsibility for the deceased from professional morticians to grieving families and communities.
Rather than having an undertaker embalm and prepare a body for a wake and burial or cremation, Doughty and business partner Amber Carvaly advocate for a more gradual and intimate process, one managed by family and loved ones and mostly free from professional intervention. Among other things, they want to help families see the body of a dead loved one up close, in its natural state, before a burial or cremation.
"When you spend time with a dead body, they do get increasingly deader as the days go on," Doughty said. "My belief is that it is good for you as a living person to view the dead body and observe these changes. It will prepare you for them being absent."
For the living, she said, it's a more authentic experience of death.
But it's a big departure not only from the traditional embalmed-body-and-casket funeral, a practice that's becoming less common, but also from the more modern practice of a quick cremation and a "celebration of life."
Doughty and Carvaly hope to create a kind of third way – funerals that aren't needlessly sanitized or expensive, but that also give families a chance to say goodbye and accept the death of a loved one.
"As creatures, human beings always crave ritual," Doughty said. "Part of my desire is to encourage people to develop rituals … (that) give the living the tender, slow, deeply intimate and cathartic experience of releasing their dead."
Smoke filled
Though Undertaking LA is a decidedly alternative business, Doughty and Carvaly have years of experience in the mainstream funeral industry. Both are graduates of Cypress College's mortuary science program, and both are licensed morticians.
For reprint and licensing requests for this article, CLICK HERE.
Prev Next