On the Line
Internet network rips royal rates at telecom hub
Monday, May 19, 2014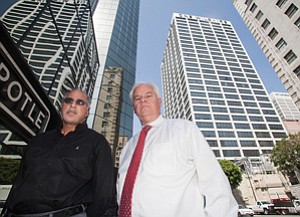 U.S. Colo occupies two spaces on the fourth floor of downtown L.A.'s One Wilshire building. Neither is larger than a pingpong table. One measures only 4 feet by 4 feet – and rents for about $5,400 a month. That's more than 100 times the average rent downtown on a square-foot basis.
It's the premium one has to pay to be near the action at One Wilshire, which behind its inconspicuous façade houses the biggest telecommunications hub in the Western United States.
The electronic activity is greatest in the huge fourth-floor Meet Me Room, where hundreds of telecom and Internet companies pay top dollar to plug directly into each other's networks. There, rows of component-filled cages and cabinets – just enough space to set up connection equipment – are stacked next to each other, with a labyrinth of cables running overhead. It's one of the world's densest Internet exchanges.
But the growth of the telecommunications industry has led to new and rising fees for a seat at this electronic table, hurting smaller players like U.S. Colo, a provider of Internet connections for businesses. Friction between those companies and Denver's CoreSite Realty Corp., which leases and operates the fourth floor, has spilled over into a legal fight.
"It's becoming egregious," said Max McCombs, U.S. Colo's co-founder, who explained that his company, to an extent, is stuck; it needs to be next to the many networks it plugs into. "People say you can go somewhere else, but there's a difference between a telecommunications company relocating than, say, a law office."
McCombs, who co-founded the company with Navroz Haji, complained that in addition to the sky-high rent, CoreSite is charging hundreds of thousands in fees for physical connections that were once free – a heavy burden for his company, which has annual revenue of less than $10 million.
Experts said the plug-in price is going up across the industry. As data center operators like CoreSite, backed by institutional investors, have become publicly traded, they have also become more aggressive in monetizing telecommunications exchanges. That's a break from the past when they simply charged rent and for power.
"When this was in its infancy back in the late '90s and early part of this century, it was more of a real estate play," said David Lambert, an attorney who reviewed the case for the Business Journal. "Now they're looking at it as a big source of revenue."
Prev Next