Accelerator May Brake on Space
INTERNET: Launchpad LA could abort free-office model.
Monday, May 12, 2014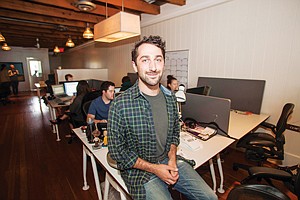 When you think of tech startup accelerators in Los Angeles, it's hard not to picture enthusiastic young entrepreneurs huddled over laptops in communal office space steps away from the Pacific Ocean.
But Santa Monica's Launchpad LA, which has touted an offer of "free office space in the heart of Santa Monica (one block from the beach) for four months" on its website, might soon be shattering that image.
"We most likely won't bring our startups together to co-locate for the next batch," said Sam Teller, co-founder and managing director of the accelerator and seed fund. Instead, startups would have to find their own office space.
Teller said he expected to make a final decision about office space in the coming weeks, but a switch is likely.
By moving away from a model that has helped Launchpad incubate 46 companies – 41 of which are still active – that collectively have raised more than $90 million, Teller is bringing an end to a model that tech site PandoDaily last year called the best accelerator in Southern California. It has also been among the top five in rankings by Forbes.
So why mess with a good thing?
"Like any business," Teller explained, "we're always re-evaluating and talking to our customers. This is entirely us saying, 'Here is our budget. How can we best spend this money?' "
It would not be the first pivot in the accelerator's five-year history.
Launchpad made its debut in 2009 as a Silicon Beach mentorship organization for startups. It didn't offer funding at first. Three years later, it evolved into its present structure, offering cash and shared office space for four months that tech entrepreneurs use as a home base in the formative stages of their company. In exchange, Launchpad gets an equity stake. The communal space gives budding companies access to the accelerator's mentors, staff and other entrepreneurs. Though the value of physical space depends on the startup in question, the goal is to get creative juices flowing in a supportive, communal environment.
Launchpad is backed by $1.3 million, made up of investments from Upfront Ventures, Rincon Ventures, Idealab and Baroda Ventures, among others. Besides offering office space and mentorship, Launchpad has made seed investments of about $50,000 in tech startups in exchange for a 6 percent stake in each business.
Although the office space might go away, the rest of the arrangement will not change. However, Teller said the fund will make slightly more seed investments going forward in companies not involved with the accelerator.
For reprint and licensing requests for this article, CLICK HERE.
Prev Next