Hat in Ring
Former TV exec weighs into boxing promotion
Monday, March 31, 2014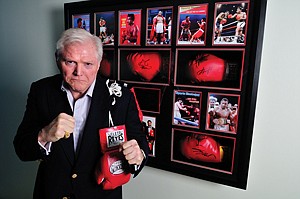 Michael King knows a hit when he sees one. His TV syndication company picked up "Wheel of Fortune" for pennies and sold it to stations for a fortune. He followed that with distribution of "Oprah" and "Jeopardy."
Decades later, King is now looking for his next knockout – and thinks he's found it in the boxing ring. Next month, he will launch a professional boxing series at the Barker Hangar in Santa Monica. The plan is to promote the fights, sell tickets and score a major TV rights deal.
King, chief executive of upstart boxing promoter King Sports Worldwide of Brentwood, said the key to his company's success will be minting new champs for the sport.
"Our goal is to create stars," King, 66, said in an interview with the Business Journal. "Until I build another superstar like Sugar Ray Leonard or Oscar de la Hoya, the jury is out on whether I'll succeed."
The strategy has been in the works for a few years, but will kick into high gear April 16 with the first Santa Monica event, followed by at least three more bouts at the venue later this year. King hopes to sell those events to TV networks.
He's hoping to tap into the billions of dollars spent on TV rights for the major sports, as seen in recent deals for Dodgers and Lakers games. Sports programming is particularly valuable these days to networks because people tend to watch live and are less likely to fast-forward through ads.
The biggest boxing matches currently air as one-off pay-per-view events on HBO or Showtime. There are also other fights on those channels and even on NBC and Fox cable channels. Smaller cards are also shown weekly for most of the year on ESPN's "Friday Night Fights." ESPN buys the rights to those events on the cheap, King said.
But he thinks boxing could command the mammoth paydays seen with the major sports, if it was presented in the right way to networks. That means serialized, high-end productions complete with storylines based on his stable of fighters – about 24 boxers from around the world he has signed.
Of course, he will still have to sell his pitch to the TV industry – certainly no easy task, especially given the well-established incumbents. Promoters such as de la Hoya's Golden Boy Promotions of Los Angeles and Bob Arum's Top Rank Boxing of Las Vegas already have deals with Showtime and HBO to show their fights.
For reprint and licensing requests for this article, CLICK HERE.
Prev Next