Deep L.A. Roots
BUSINESS PERSONS OF THE YEAR: Agribusiness billionaires Stewart and Lynda Resnick have planted themselves at heart of philanthropic, cultural scenes.
Monday, March 24, 2014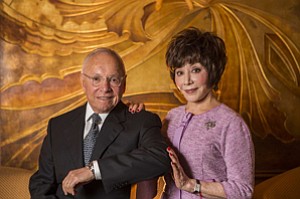 But that strategy hinges on Lynda's marketing acumen. Her focus on flashy, expensive – and not uncontroversial – campaigns single-handedly turned pomegranate juice into a health craze and helped make Cuties clementines the most valuable citrus crop in the country.
In a deeply fragmented agriculture industry, Roll is unapologetically big.
"There're only three industries where there's strong leadership positions – clementines, in pistachios and pomegranates," Stewart likes to say. "And we're the leader in each one."
The couple's influence goes beyond business, placing them among the region's most generous philanthropists. Together they have given more than $20 million to UCLA, Stewart's alma mater, funding the school's neuropsychiatric hospital as well as numerous scientific studies related to health. The Resnicks also created the Sustainable Energy Institute at Caltech.
Lynda is chairwoman of the acquisition committee at the Los Angeles County Museum of Art, to which the couple made a $55 million donation in 2008 for the construction of an art pavilion.
It is for their success in creating a modern agriculture and marketing powerhouse, along with their largesse toward the civic and cultural communities in which they live and work, that the Business Journal named the Resnicks its Business Persons of the Year. They joined the Business Journal's Hall of Fame at a luncheon March 18 at the Millennium Biltmore Hotel Los Angeles in downtown.
Setting standard
The couple hold court as one of the lynchpins of L.A.'s high society in their ultralavish beaux-arts mansion on Sunset Boulevard in Beverly Hills. Lynda counts among her friends Laurie David, Arianna Huffington, Walter Isaacson and former Vice President Al Gore.
Sunset House, as it's called, is gilded with 18th century masterworks. Stewart has a particular fixation on sculpture and once acquired a statue of Napoleon for their foyer that was so heavy they had to insert a steel support beam underneath the house to gird the extra weight.
Resnick gatherings are locally legendary.
"Being invited to a dinner party by Lynda Resnick is like being nominated for an Oscar, only more impressive," said local publicist Michael Levine. "At my last dinner party, I sat with David Geffen, Steve Martin, Norman Lear, Warren Beatty, Thomas Friedman, Bill Maher, among others."
Indeed, to their friends, the Resnicks represent a standard of wealth and culture unique to a city as new as Los Angeles.
"We're still 150 years behind cities like New York when it comes to giving, especially to the arts," said Michael Govan, LACMA's chief executive. "What the Resnicks have done here is so incredible. They're really our version of the Rockefellers."
For reprint and licensing requests for this article, CLICK HERE.