Web Inroads
PUBLISHING: Source Interlink aims to rev up online interest and ad revenue for its car enthusiast magazines.
Monday, March 10, 2014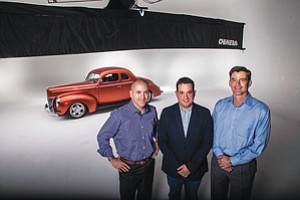 With a new chief executive behind the wheel, the company that publishes Hot Rod and Motor Trend magazines is shifting into higher gear on the digital highway.
Magazine publisher Source Interlink Media last month hired Scott Dickey to lead the company beyond print.
Dickey said Source was already on the right road thanks to recent innovations, such as buying a digital advertising production company and launching some YouTube channels.
His plan is to continue growing new lines of business.
"We want to move away from a publishing-centric orientation," Dickey said. "We've already turned the corner. Now we want to accelerate."
Source owns 87 publishing brands, many of them in the automotive world, such as Hot Rod and Motor Trend, which are based in Source's El Segundo offices. About 200 employees work there. The company also publishes a number of action sports titles through its GrindMedia division in San Clemente.
The company is taking several measures to adapt to an increasingly digital publishing industry that's as different from traditional print magazines as a Tesla is from the cars that Hot Rod magazine featured in its 1948 debut.
Under Dickey and Chief Financial Officer Bill Sutman, Source is establishing a Web-focused publishing strategy. With the new model, writers post articles to online portals classified by general interest rather than magazine title. Source then picks content from those portals to be published in its print magazines.
The strategy began with the recent launch of the Four Wheeler Network, a Source website that publishes off-roading content and feeds Source's six print magazines in that category, such as Four Wheeler and 4 Wheel Drive & Sport Utility.
Similar portals are planned for Source's other groups of magazines that cater to enthusiasts. The idea is to build large audiences for advertisers.
The strategy has been tried at magazines with unsatisfactory results, said Samir Husni, director of the Magazine Innovation Center at the University of Mississippi. For example, Condé Nast made Style.com the online home of Vogue and W until deciding to give each magazine its own dedicated site in 2010.
"They discovered it did not work that well," he said. "People are backing up from the random-name portal. They're recognizing there's a lot of value to the magazine brand name, whether it's Car and Driver or Cosmopolitan."
Sourcing investments
Source has a broad portfolio of print titles and the company will continue publishing many of them, thanks to the loyalty the titles have built up over the years. Also, many of them are deeply discounted – a 12-issue subscription to Four Wheeler costs $10.
Prev Next