BROKERAGE'S APP LETS FAMILY, FRIENDS SHARE INVESTMENT MOVES SOCIAL-NETWORK STYLE.
Taking Stock Of Trades
Monday, June 9, 2014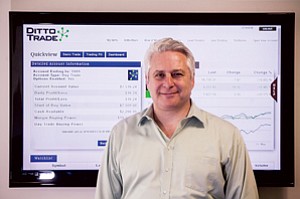 You know the stock tips you get from your golf buddy or your brother-in-law? Downtown L.A. stock brokerage Ditto Trade wants to move those tips online and let you see what stocks your pals are buying and selling.
The company this month plans to start a service called Ditto Groups that will allow friends and family to share stock tips among themselves social-networking style through a smartphone app. Your uncle buys shares of Twitter Inc., you and the rest of the family get an alert – and the option to do likewise.
Joseph Fox, chief executive of Ditto Trade, said the idea is that people have different levels of interest and expertise in investing and that individual investors can do better by sharing what they know. Some might be knowledgeable about tech stocks, others might be more familiar with real estate investment trusts.
"If you don't have time to monitor the market on your own, you can get together with five or eight friends," Fox said.
Ditto Groups is a variation of Ditto Trade's standard offering. Since its founding in 2010, the brokerage has let investors follow the trades of so-called lead investors. Say your father-in-law fancies himself a stock picker. With him as the lead trader, you automatically make the same stock purchases and sales that he executes: He sells Disney and buys Amgen, so do you.
Ditto Groups works in much the same way, but group members don't necessarily make all the same trades as other members. If your golf buddy buys a stock, you get a notification and you have the option to buy or pass on that stock.
Ditto Trade doesn't charge for its social tools; it makes money by charging fees for every stock trade, same as other brokerages.
Fox said he thinks Ditto Groups and other social tools will help bring in new clients, ones who likely aren't investing in the stock market now.
"It's a client acquisition tool, but it's also educational," he said. "I'm interested in the 18- to 30-year-olds who are trying to understand the market."
– James Rufus Koren