Linked In
TECHNOLOGY: Latest exec hires at Silicon Beach show local scene strong enough now to create and keep top managers.
Originally published June 9, 2014 at midnight, updated June 16, 2014 at 11:25 a.m.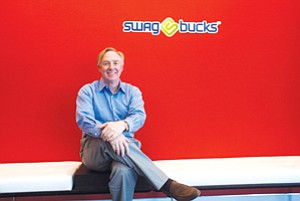 Burr co-founded free Internet provider NetZero in 1997 and saw it through its $160 million IPO two years later. He also served as chief executive for WebVisible, an online ad software maker in Playa Vista from 2009 to 2011.
CallFire, a 60-employee company whose service allows organizations to send instant text messages and phone calls to customers, raised an undisclosed amount of funding last year and Burr said the company is in the process of raising more.
Echoing Davis' sentiments, Burr said his first order of business upon assuming the top job was to figure out how to present the company to potential partners and investors.
"I spent the first several months with the team doing deep dives on data," Burr said, while trying to learn how to "talk about the business in business terms and not just to our customers."
Winnick, whose tenure at telecom provider Global Crossing closed in controversy as he sold more than $700 million in stock nine months before the company filed for Chapter 11 bankruptcy protection, also appears to have big plans for T+ink.
In addition to taking over as chairman and chief executive, he has assembled an impressive board to oversee its expansion. Kent Kresa, former chairman and chief executive of Northrop Grumman Corp., has joined T+ink as vice chairman and John C. Cushman III, co-chairman of Cushman & Wakefield Inc., the world's largest private commercial real estate firm, joined a month later along with Richard Ressler, co-founder of global real estate and investment firm CIM Group.
Winnick has declined multiple interview requests, though it's clear from T+ink's revamped website that he has ambitious goals.
"Our agenda is nothing less than to 'T+ink' every product on the planet and to become the dominant force in the Internet of things," the website says.
Tylt's Casale said Winnick brings strong leadership credentials to T+ink.
"The guy knows how to build a really solid board of directors," Casale said. "He can build financing. He's got a great network and he understands how companies should be built."
For reprint and licensing requests for this article, CLICK HERE.
Prev Next