REAL ESTATE QUARTERLY: DEVELOPERS' GROUND-UP AND RENOVATION PROJECTS AIM TO DRAW CROWDS BACK TO VILLAGE.
Re-Digging Westwood
Monday, January 27, 2014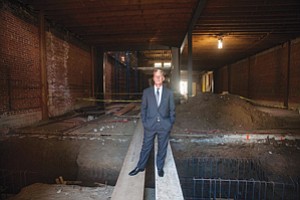 Four decades ago, Westwood Village was one of the hottest places to be on a Friday or Saturday night. Cars and people crammed its streets and sidewalks: bumper to bumper, shoulder to shoulder.
"Growing up, I went there every weekend with my friends," said Josh Simms, a property owner in the village whose family has had real estate interests there for more than 30 years. "It was just absolutely crazy."
But a lot changed as the years wore on, and the approximately 52-acre retail district's draw as a hub for entertainment in Los Angeles diminished. In the last 20 years, the UCLA-adjacent neighborhood has been more ghost town than party town, with dozens of shops along the main boulevard sitting vacant for long periods of time.
Lately, however, Westwood Village has begun to show signs of a slow but steady revival. Property owners and developers have committed an aggregate of about $300 million to major construction projects in the area. At least five ground-up development projects are in various stages of planning or construction in or very near the village, along with at least five additional renovation projects.
Plans for the ground-up developments promise to bring as many as 107,000 square feet of office space, 57,000 square feet of retail, 34 apartment units and 294 hotel rooms. On top of all that, nearly a dozen local and national retailers – restaurants in particular – are negotiating or have recently signed leases to open in the village in the coming year.
This flurry of development activity represents not only an economic shift, but a cultural one as well. The recent history of Westwood Village has been one of at times strident opposition to development. Perhaps most dramatic was the resistance to developer Alan Casden's plan to build the Palazzo Westwood on Glendon Avenue, announced 14 years ago. Because his proposal for the 350-unit apartment complex was larger than zoning allowed, he faced fierce push-back from the community that ultimately cost him about five years and $22 million. (See story, page 24.)
The project was eventually built, much to the benefit, he said, of the community.
"All the merchants opposed my project, and now they're giving discount cards to my tenants to encourage them to buy," Casden said. "My project helped restaurants, it helped retail establishments. I've done more for Westwood than they ever did for me."
In the intervening years a development accommodation seems to have been reached.
Prev Next