Fitness Company Pumps Up Its Teacher Training
HEALTHCARE: Santa Monica firm sets up Beachbody Live to certify new instructors.
Monday, January 20, 2014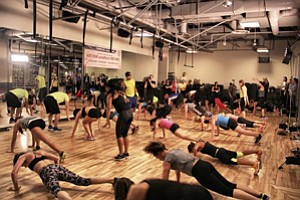 New Owners at Olympia
Olympia Medical Center, a 204-bed community hospital in L.A.'s Miracle Mile district of Los Angeles, is under new ownership.
Alecto Healthcare Services, led by former Prime Healthcare Services Chief Executive Lex Reddy after he left the Ontario hospital chain in 2012, has obtained controlling ownership in Olympia. The deal for the hospital, which had been physician-owned for decades, closed on Dec. 31. The doctors group retains minority ownership. It's the first acquisition for Alecto, which also manages a small non-profit hospital in Northern California with an option to buy.
Prime Healthcare's L.A. County holdings include Centinela Hospital Medical Center in Inglewood and Garden Grove Hospital Medical Center. Chairman and founder Dr. Prim Reddy, Lex Reddy's brother-in-law, has battled organized labor and insurance companies in a drive to make his hospitals profitable. Earlier this month, Prime was hit with a $50 million lawsuit for allegedly overbilling Medicare and Medicaid.
While Alecto also aims to flourish by turning around struggling community hospitals with emergency rooms by making them more efficient, Alecto Chief Financial Officer Roger Krissman said the company won't copy Prime's play book.
"We are near Cedars-Sinai, but believe we can attract patients who are looking for a smaller, community hospital experience," said Krissman, who was Prime's chief operating officer under Lex Reddy.
He said the company plans to proceed with much-needed equipment upgrades.
TwinMed Hires New CEO
TwinMed, a national distributor of medical supplies and services in Santa Fe Springs, this month announced that Kerry Weems, a former administrator of the federal Centers for Medicare and Medicaid Services, has joined the company as chief executive. Weems replaces Steve Rechnitz, who co-founded TwinMed in 1998 with his twin brother. He now has the title of executive chairman.
Weems most recently was head of the health business unit for General Dynamics, and before that served in various health care positions with the federal government. He led CMS during the President George W. Bush administration.
Staff reporter Deborah Crowe can be reached at dcrowe@labusinessjournal.com or at (323) 549-5225, ext. 232.
Prev Next