Ad Space
Agencies home in on Playa Vista
Monday, January 6, 2014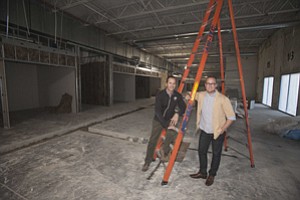 Paul Mareski, president of Team One, realized his firm's need to move after holding an agencywide meeting to discuss the company's move three weeks ago.
It was held inside a long corridor, with a 12-foot-high ceiling set up with speakers in the front and multiple screens placed throughout. He said the "very uninspiring" space validated Team One's plan to create a dedicated agency meeting room featuring a 35-foot ceiling with a huge screen and a sound system.

The new space, he said, will provide a more creative and seamless approach to collaboration while helping to retain employees and even recruit talent.
"In our current facility, we are in a pretty standard office building spread across four different floors with perimeter offices," he said. "We needed a space to collaborate."
After 25 years in El Segundo, Team One will be moving into a 64,000-square-foot office space with features such as individual workstations, 40 small conference rooms in addition to several larger ones and a mezzanine dedicated as hangout space.
"Three boxes we definitely wanted to check were airport proximity, proximity to existing clients … and an open canvas from which to create something new," said Mareski.
The agency's new offices will be in a 20-acre office complex called the Reserve. The complex features an outdoor sand volleyball court, a gym, a café and juice bar, along with dog grooming and walking services available to all tenants.
The agency has a staff of 374 with clients such as Lexus in Torrance and American Express Co. in New York. It also has a staff of 48 working in offices in Chicago; New York; Atlanta; Washington, D.C.; and Austin, Texas.
Chris Graves, chief creative officer for Team One, said that the new neighbors in Playa Vista, including entertainment companies such as Microsoft Corp., Sony Corp.'s gaming systems and media company TMZ are a good combination.
"I feel like in any business you're inspired by the people you're around," said Graves. "You want to be near the epicenter of where technology and content development and entertainment are starting to come together and that seems to be happening for that area right now."
Former wasteland
Playa Vista was one of the last remaining open spaces on the Westside, but massive development over the last 10 years has resulted in more commercial, residential and retail units. More development is planned, including a project called Runway at Playa Vista, a 14 acre mixed-use complex.