Ad Space
Agencies home in on Playa Vista
Monday, January 6, 2014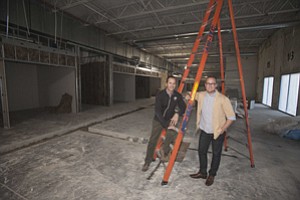 Advertising agencies in New York have Madison Avenue to call home, but in Los Angeles that place is becoming Jefferson Boulevard in Playa Vista. In fact, it is now sometimes called "ad agency row."
Agencies 72andSunny and TVGla settled into new offices there last year, and Team One and Kastner & Partners will move there in March from El Segundo and Santa Monica, respectively. They will join several others already there.
Of the top 10 advertising companies on the Business Journal's list of local ad agencies, half of them will be in Playa Vista after Team One's move.
"The ad business is a momentum business," said Kim Getty, partner and chief creative officer of Deutsch LA – one of the agencies already established in Playa Vista. "So, when you see all of the agencies moving into this neighborhood and can sort of visibly see it and feel us building off each other, it's very exciting."
One draw is lower rent, at least compared with nearby Santa Monica and Culver City. Another is that converted warehouses in the neighborhood offer the super-trendy creative office space that features open floor plans that agencies believe foster teamwork.
"I think the space available in Playa allows ad agencies to come in and create from the ground up," said Susan Franceschini, executive director of ad industry trade group ThinkLA. "Ad agencies are creating things and they want something that represents their personality."
But while lower rent and open floor plans are enticing, the real draw is the community of tech and entertainment companies that has firmed up there recently. Playa Vista has become a spillover of sorts for the burgeoning Silicon Beach area of Santa Monica, particularly attracting firms that create entertainment for the Internet.
Franceschini said the addition of ad agencies creates a talent pool for creative firms to fish from when seeking future employees.
L.A.'s ad agencies have long been scattered mainly on the Westside, although Playa Vista has been home to TBWAChiatDay LA and Deutsch LA, which moved to the area in 1998 and 2000, respectively. The two are often referred to as "anchor agencies" by industry insiders because of their long residency in the area. But others have gradually moved in since. OMD Worldwide, Zimmerman Advertising, KDA Group and Ignition Creative also have offices there.
As a result, many in the industry now refer to the stretch of Jefferson Boulevard that runs through Playa Vista as ad agency row.
Prev Next
For reprint and licensing requests for this article, CLICK HERE.