Pretzel Supplier Alleges Twisted Tale
FOOD: Middleman says he was boxed out by Trader Joe's.
Monday, February 17, 2014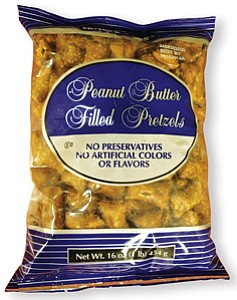 Suppliers benefit, too. Despite a reputation as an aggressive negotiator, Trader Joe's is generally not known for playing games. It has a reputation for paying bills on time and does not charge slotting allowances – a fee to place an item on the shelf – that's standard at many supermarkets.
Ousted
But Kroll alleges the company's push for a discount went too far.
He had long been a rare creature in the Trader Joe's universe – a middle man that did not own his own manufacturing capabilities. The retailer almost always contracts directly with manufacturers instead of distributors to cut costs.
"They cut out middle men. They do no deal with distributors," said Steve Kass, chief financial officer of Tofutti Brands Inc., a former Trader Joe's supplier. "They buy full loads, they get cheaper pricing and that's what they're known for."
But there aren't many places to make a peanut butter-filled pretzel. Maxim contracted with Reisman until that company went bankrupt in 1995, after which it switched manufacturers to Anderson Bakery in Lancaster, Pa. Anderson got bought up by National Pretzel Co. in 1999, which bought up another major peanut butter pretzel manufacturer, California Pretzel Co. National Pretzel in turn was purchased by Omaha, Neb., food giant ConAgra in late 2011.
Suddenly, ConAgra was not only Kroll's manufacturer, but the biggest peanut butter pretzel maker in the United States. But Kroll alleges that when peanut prices dropped last year – down 25 percent year over year during the summer – ConAgra didn't pass on any price relief. Instead, he claims the company, armed with confidential information about the Trader Joe's products, cut a deal directly with Trader Joe's for less money in October. In one stroke, Kroll alleges, he lost his largest customer – and his ability to manufacture the products.
Gardiner said the allegations are unsurprising.
"This is a company that really plays hardball with suppliers," he said. "I don't think it matters to Trader Joe's that Maxim basically invented the product and went on and had a long fruitful relationship. I think when someone else came along and said we can do that for a little bit less, Trader Joe's was quick to jump at it."
Losing Trader Joe's as a client can hurt. Kass' Tofutti was a manufacturer of its own branded goods at Trader Joe's for 15 years but was phased out in 2011 when the retailer decided to prioritize its own private-label versions of similar products; Tofutti saw annual sales drop 19 percent. He maintained that Trader Joe's is "honest and reputable."