INTERNET: YOUTUBE PRODUCER CHANNELS SMALL-SCREEN VETS, SPONSOR.
Online Shows Tapping TV Talent
Monday, August 25, 2014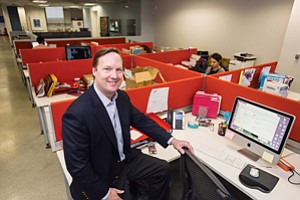 "We act very much like a traditional studio," said Stuart McLean, founder and chief executive of Content & Co. "We get scripts written and budgets run."
Branded entertainment itself is not new. Product placement, for instance, has been around for decades, and brands even sponsored entire blocks of television programming as early as the 1950s.
More recently, Pawtucket, R.I., toymaker Hasbro Inc. has spun billions in box office gold by turning its Transformers and G.I. Joe lines into summer movie blockbusters.
What's changing is the migration of advertising dollars to the digital realm. For instance, marketers spent $43 billion on Internet advertising last year, more than any other platform, according to figures from the Internet Advertising Bureau and PricewaterhouseCoopers. That's nearly $3 billion more than broadcast TV and about $9 billion more than cable.
While Content & Co.'s McLean said the amount of Internet ad money going toward original content creation is still small, it's getting bigger.
"It's certainly grown," he said. "You've seen the move from broadcast dollars."
Others have noted the shift as well, including Sarah Penna, co-founder and chief creative officer at Culver City multichannel network Big Frame, which is owned by AwesomenessTV, a DreamWorks Animation subsidiary.
"The majority of our business is focused on brand integration, not Google AdSense," said Penna, whose company creates and markets video content on YouTube. "It used to be brands would give us their experimental marketing budget. Now we're seeing brands and agencies making it a line item in their media buying plan."
Enhanced distribution
Why are brands so interested in putting hundreds of thousands, even millions of dollars toward scripted series on YouTube and other online video outlets such as Hulu?
Doing so enables them to distribute the shows through their own stable of social media outlets and also those of the popular headliners. Cimorelli's YouTube channel, for instance, has about 2.8 million subscribers.
Additionally, social media provides useful analytics into who is watching the content and their other interests. Plus, video players such as YouTube offer brands data about when viewers click the stop button, so executives can see what's not working.
"It allows brands to get into lots of different nooks and crannies that they wouldn't be invited into," said McLean, including Twitter, Facebook, Google Inc.-owned YouTube and even popular entertainment blogs. "Normally that's a very hard place for a brand to have a true reason to be there. This provides natural progression."