Money Managers Hit Tech Circuit
INVESTMENT: Many cultivate young CEOs before they're rich.
Monday, August 4, 2014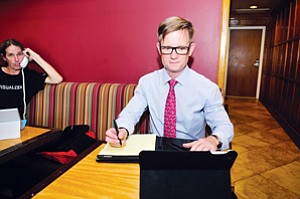 In some cases, that means going so far as to spend time and effort on clients who have no money to manage.
Munster said he has been working with the founder of a local e-commerce startup and has introduced him to a corporate attorney, an auditor and a few private equity firms, even though the founder doesn't have a cent under Munster's management.
"We sat and listened to what his needs were and then we brought in the best of the best to address those needs," he said. "I haven't even opened an account with that client. But if he sells his business next year or the following, he's likely to get more than $50 million. That would be great."
Social networks
To find those next big customers, money managers are attending more tech networking events, buying more cocktails, and generally spending more time socializing in Santa Monica and other industry hubs.
Susan Moffat, a banker with JPMorgan Private Bank in Century City who focuses on tech clients, said her social calendar fills up quickly.
"Because the community is so social, I get to interact with clients and prospects on a fairly regular basis," Moffat said. "You get to know them and they get to know you."
Gerber Kawasaki, a wealth management firm in Santa Monica with clients including employees of Google Inc., Twitter Inc. and Santa Monica video game publisher Activision Blizzard Inc., has hosted tech events of its own and the firm's advisers are regulars at local tech get-togethers.
Like the clients they're going after, Gerber Kawasaki advisers are mostly young – age 28, on average. Ross Gerber, the firm's chief executive, said that youth helps attract young tech clients.
"They're meeting with an adviser their own age, not with someone their dad's age," Gerber said. "They don't want a father figure. They want a peer."
Along with making the rounds at events, managers and advisers are poring over their lists of contacts, looking for acquaintances who can help them connect with promising entrepreneurs. Referrals have always been part of the wealth management business, but managers say it's especially important amid the fierce competition for tech clients.
Johnson of Morgan Stanley said he always checks LinkedIn for connections to a prospective client and will ask mutual friends if he can name-drop them when trying to set up a meeting.
"There are hundreds of enterprising young wealth managers cold-calling people," he said. "If I just said, 'This is Eric from Morgan Stanley,' people would delete the message before listening to the rest of it."