Building Friction
DEVELOPMENT: Some residents say Arts District's character at risk from new apartment, loft projects.
Monday, August 4, 2014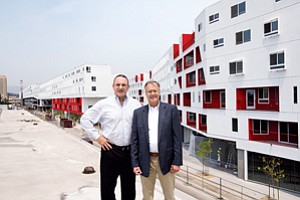 If developers in the Arts District have their way, the population of the close-knit creative community in downtown Los Angeles will grow by roughly 70 percent in the next two years. And in the process, the neighborhood's old, industrial charm will be augmented – some say nearly ruined – by the addition of several buildings.
At least four residential projects within a half-mile of each other propose to bring nearly 1,500 apartments to the neighborhood, boosting the number of people who live in the area roughly bounded by the Los Angeles River, and Alameda, First and Seventh streets from about 2,700, according to the U.S. Census Bureau, to more than 4,500.
Leading the charge is the first ground-up construction project built in the Arts District in decades, residential development One Santa Fe. The project is huge, spanning more than a quarter-mile along the river between the historic bridges at First and Fourth streets. Rising on the site of what was 75 years ago the Le Grande Station passenger rail terminal, the project is nearly complete. Its developers have begun preleasing apartments and 40,000 square feet of ground-level retail space. The 439-unit complex will open its first phase of 125 units next month, with the balance opening by the end of the year.
The three projects coming on its heels are also ground-up developments.
At 905 E. Second St., a block from One Santa Fe, Brentwood developer Lowe Enterprises is under way on a 320-unit apartment complex on a site formerly occupied by toy distributor Megatoys. At 950 E. Third St., developer Legendary Developments, based in the Arts District, is moving through the approval process to build a 472-unit apartment complex. Finally, at 695 S. Santa Fe Ave., Beverly Hills developer Bolour Associates has proposed building 240 live-work lofts.
Each developer is eager to capitalize on the growing popularity of the neighborhood, which in recent years has seen a slew of hip businesses open. But for all the developers' enthusiasm, those who have already staked a claim in the Arts District have expressed concern.
Character critique
Nearly 100 people, including developers and architects based in the Arts District, submitted letters of opposition to the largest of the four residential projects during a meeting with city planners last month. Mark Rothenberg, president of architecture firm RSA Architects Inc., housed at 953 E. Third, critiqued plans for the "fortress-like development" planned across the street at 950 E. Third, calling its design uninteresting and uncool.
For reprint and licensing requests for this article, CLICK HERE.
Prev Next