FILM: REALD PROJECTS SUCCESS FOR FORMAT DESPITE WANING DRAW.
Exhibition Firm Keeps 3-D Focus
Monday, September 30, 2013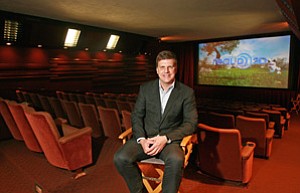 The summer was a flop for RealD Inc.
After announcing disappointing ticket sales for 3-D films during the important moviegoing season, company shares plummeted to an all-time low this month. One analyst even suggests it's time for a takeover.
But executives at the Beverly Hills entertainment technology firm hope their fortunes will improve as soon as this week, with the 3-D release of "Gravity" on Friday.
RealD, which installs equipment in movie theaters that allows films to be shown in 3-D, gets its revenue by taking a cut of ticket sales. The lackluster summer in the 3-D world is cause for concern for analysts who see a downward trend developing. Some believe the format just isn't living up to the hype created four years ago after the release of "Avatar."
"There's a place for 3-D. It's just not as big as the analyst community originally thought it was," said Brett Harriss, an analyst who follows RealD at Gabelli & Co. in New York.
One problem: Moviegoers are proving to be picky when it comes to paying an extra $3 or more to see a movie in 3-D.
That presents a challenge to the RealD business model because it's box office dependent. The company gets a fee of about 50 cents for each 3-D ticket sold. That money backfills RealD's installation costs of the 3-D systems, which usually run $7,000 to $10,000 per screen.
Early optimism for the format continued after "Avatar." The next big studio 3-D movie to open in the United States, "Alice in Wonderland," generated about 70 percent of its domestic box-office revenue from 3-D ticket sales.
But in RealD's most recent quarter ended June 30, the company disclosed that U.S. moviegoers overwhelmingly chose the 2-D version of films such as "World War Z." Just 35 percent of U.S. box-office revenue for films released in 3-D versions came from 3-D ticket sales. (International results were better. About half of ticket sales for 3-D releases came from 3-D tickets.) RealD lost $1.5 million for the quarter (-3 cents a share) on $59 million in revenue.
The format hit bottom with the July release of "Despicable Me 2," which generated just 27 percent of its opening-weekend box-office revenue in the United States from 3-D ticket sales. RealD also disclosed disappointing 3-D ticket sales for August, which sent shares down to an all-time low of $6.58 on Sept. 13. Shares rallied a bit thereafter, closing at $7.22 for the week ended Sept. 25. (See page 48.)
Prev Next