West L.A. Startup Enters Cluttered Storage Market
Wednesday, September 4, 2013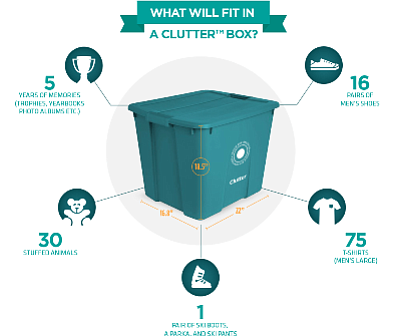 There are apps for hailing cabs, doing laundry and completing other tasks. So it should come as little surprise that a West L.A. startup has created an app for storing unused stuff.
Called Clutter, the company is looking to take the "self" out of the self-storage industry.
Instead of hauling boxes to the Public Storage warehouse down the street, a person can call on Clutter to store, say, bulky winter clothes until they are needed.
Self-storage is an entrenched market, but Clutter Chief Executive Brian Thomas believes it isn't what consumers want.
"I started Clutter because I was frustrated with existing storage options," Thomas said. "I want this to be an easy, convenient option."
The process starts when Clutter sends empty reusable boxes to a customer's door. The customer fills the boxes, snaps a photo of the contents of each box using the Clutter app, and then requests that Clutter take the boxes to storage.
Clutter houses the boxes – which come in only one standard size – at a warehouse in Los Angeles until a customer needs to access a box. The person then can request a box using the app and Clutter delivers it the following day.
The company offers free boxes and pickup. It charges a $10 monthly fee for every box it stores and a flat retrieval fee of $15 for any number of boxes.
Clutter rents warehouse space in Los Angeles to store customers' belongings. Thomas declined to say where the warehouse is located, citing security concerns.
He doesn't foresee problems with lost or stolen belongings, but the company will replace up to $1,000 worth of belongings per box if something does go missing. Each box also comes with a security sticker that indicates whether it has been opened after it was packed.
The service is currently only available in a 15-mile radius in Los Angeles. Though Thomas said there are plans to expand into the San Fernando Valley, Pasadena and other cities in the future.
The company also has plans to evolve beyond its single box size to store everything from refrigerators to bicycles.
"I see a future where Clutter owns warehouses that can store all sorts of items," Thomas said. "We want to store anything that somebody would hope to have taken out of their home."