Human Milk Company Pumped About New HQ
NUTRITION: Prolacta to open plant to increase baby formula production.
Monday, October 28, 2013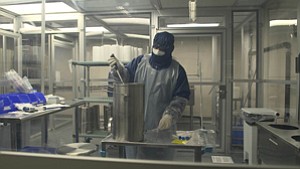 Prolacta has distanced itself from so-called "milk-sharing" Internet sites that have come under fire recently for selling contaminated breast milk. The company said its facilities are not only inspected by the FDA, but it also employs a donor qualification and milk collection process that includes DNA matching of mom to milk, and testing for drugs and other contamination such as HIV, salmonella and e. coli.
Next Stage
Arrowhead Research Corp., a Pasadena biotech firm, has closed a private offering of common and convertible preferred stock, with net proceeds of $60 million.
Proceeds from the offering, which was led by RA Capital Management in Boston, will be used to pay for midstage clinical trials of the company's experimental treatment for chronic hepatitis B and some other drug candidates that are in early stage trials. Arrowhead's therapies are based on technology that suppresses the action of disease-causing genes.
"We see the strong demand from high-quality institutions as a vote of confidence in our technology, strategic plan and execution," Chief Executive Christopher Anzalone said in a statement.
Business Briefs
IPC the Hospitalist Co. Inc., a North Hollywood operator of hospital-based doctors around the country, has acquired the assets of three affiliated hospitalist practices in the South, led by THG the Hospitalist Group. ... Apollo Medical Holdings Inc., a Glendale health care management company, said Pacifica Hospital of the Valley in Sun Valley has signed an accountable care organization participation agreement with its ApolloMed ACO unit. The agreement will enable health care providers to better share clinical data, manage high-risk patients and coordinate care. The goal is to get higher reimbursement rates under the Affordable Care Act.
Staff reporter Deborah Crowe can be reached at dcrowe@labusinessjournal.com or (323) 549-5225, ext. 232.
Prev Next