Human Milk Company Pumped About New HQ
NUTRITION: Prolacta to open plant to increase baby formula production.
Monday, October 28, 2013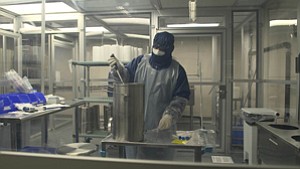 Prolacta Bioscience has unveiled its headquarters and a manufacturing plant for the company's human milk-based nutritional products.
The 67,000-square-foot facility, at 757 Baldwin Park Blvd. in City of Industry, was converted from a former distribution center for stuffed animals. It will enable the 14-year-old life science company, which will relocate from Monrovia, to ramp up production to meet a growing demand from hospitals for human milk-based fortifiers for severely premature infants.
The facility won't be fully operational until Food and Drug Administration inspectors sign off on it. Inspectors first have to work through a backlog of facility permits that piled up during the partial government shutdown.
Prolacta is the only company making milk fortifiers from human milk. The condensed supplement, sold in 5-ounce bottles and combined with milk pumped from the infant's mother, is often necessary because premature infants can't handle the volume of regular breast milk necessary to meet their nutritional needs. The company also provides standardized human milk formula for when the mother's milk isn't available.
"Our customers are babies who weigh at most maybe 2¾ pounds, sometimes under a pound, and can fit in the palm of your hand," Chief Executive Scott Elster said. "Our products enable those babies to receive a human milk protein shake."
Fortifiers based on cow milk protein are still commonly used for the same purpose. But medical research indicates that using human-sourced fortifiers makes it less likely that an infant will contract an often-fatal disease called necrotizing enterocolitis.
The research has created a boom for Prolacta, which has raised more than $40 million over the years from venture capital firms Arcturus Capital of Pasadena and Alta Partners of San Francisco, among others.
The company, which had only 45 employees a few years ago, is up to 85 and expects to grow to 100 next year, Elster said. Prolacta helped feed about 2,500 babies in the United States, Canada and Austria last year and could reach 3,100 this year.
The new freezer can store more than 110,000 liters of milk products, which he said should meet growth projections for the next several years.
Prolacta took advantage of a depressed real estate market in 2011 to buy the building for $5.8 million, according to CoStar Group Inc., funding the purchase and subsequent renovations with proceeds from its last round of venture funding.
"We've come close a few times to reaching our (manufacturing) capacity," Elster said. "In addition to the need for a large enough space, we also needed something close to our current building in Monrovia, so we would not lose any of our employees, who are highly skilled pharmaceutical manufacturing workers hard to come by."
Prev Next
For reprint and licensing requests for this article, CLICK HERE.