INTERNET: AD HOC'S BURNER LINKS MULTIPLE LINES TO ONE PHONE.
App May Have Users' Numbers
Monday, October 7, 2013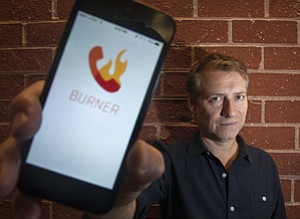 Greg Cohn sees phone numbers not as a string of digits but as a digital identifier, like an email address.
But unlike email, where one person is likely to have two, three or even more accounts, most people tend to have a single number. It's a piece of our identity that we either give out freely, with occasional regrets, or distribute with extreme prejudice.
In Cohn's view, phone numbers can become more and more like email addresses; that's the goal set out for Burner, an app made by his Silver Lake firm, Ad Hoc Labs Inc. Ad Hoc recently raised a $2 million seed round led by Cambridge, Mass., firm Venrock and included L.A. fund TenOneTen Ventures.
Burner, for Android and iPhone, lets people buy low-cost additional phone numbers that route directly to their smartphones. Cohn said Burner has been a hit among people looking for a layer of privacy when interacting with the outside world as they post ads on Craigslist, apply for jobs or meet someone at a bar.
"You can control in Facebook and Twitter what gets distributed, and it's second nature to think of multiple email addresses as different identities," Cohn said. "We think the phone should be more like both of those things."
The free-to-download Burner lets people purchase disposable phone numbers through the app. Pricing is based on the relative permanence of a phone line, so a number that's active for two weeks or 20 minutes of talk time, whichever comes first, costs $1.99; one that lasts for two months or 75 minutes costs $4.99. Users can add minutes to a number beyond the original length. Anytime they want to cancel a number, it can be "burned," immediately discontinuing the line and any unused minutes are lost.
Otherwise, the app works exactly like a phone's traditional calling feature. People make calls by dialing through a keypad in the app; the number that pops up on the recipient's phone is the temporary Burner number.
Incoming calls to the Burner number are routed through servers and appear on a phone as the Burner number calling the user. As a result, it's impossible to tell who is calling. Cohn said people manage that potential shortcoming by remembering to whom they gave their numbers.
Traditionally, it is a tricky and expensive process to assign two or more numbers to a single phone through a mobile carrier. Even when done, such auxiliary lines are not designed to be disposable.
Prev Next