Scoutfit Launches Online Shopping Tool
Wednesday, November 20, 2013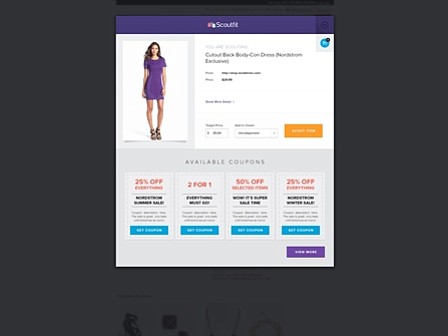 A downtown L.A. startup has launched, trying try to solve one of the biggest conundrums in online shopping: Do you buy that pair of shoes full price or gamble that those kicks will later go on sale?
Scoutfit, a website that tracks when e-retailers have discounted an item or launched a sale, works similarly to online bulletin board Pinterest in that users download a button to their toolbar that then lets them post a photo of an item to their personal Scoutfit page.
By posting a photo of an item – whether shoes, consumer electronics or apparel – users notify Scoutfit that they want to receive email alerts when it goes on sale. They can also indicate details, like the size or color preference for, say, that cocktail dress they've been coveting. They can even tell Scoutfit not to alert them until the dress has reached a certain price.

Scoutfit's technology scans hundreds of e-commerce sites for price changes and sales. In some cases, Scoutfit is an affiliate partner and receives a daily feed of that website's products and prices.
Scoutfit makes its money through those affiliate deals. If it helps one of those retailers generate a sale, Scoutfit receives a small commission.


Co-founder Lainie Herrera said she first came up with the idea while shopping online at her desk job.
"I've been a huge online shopper for years," said Herrera, Scoutfit's vice president of marketing. "I always look for deals and put in tons of research before I buy anything. With certain items, I wanted to know when it went on sale."

Herrera teamed up with Nathan Liu, a veteran of Southern California retailer Pacific Sunwear, and Web developer Jeff Ryan to start Scoutfit. Liu is chief executive, Ryan is vice president of technology.
The founders have bootstrapped the business, but expect to raise a round of seed financing early next year, Herrera said.

Scoutfit has been operating in closed beta for a few months, but on Tuesday evening the company lifted the gate to allow anyone to sign up for the service. The service was supposed to go live earlier in the day but experienced some delays.
It also rolled out a social component to the site. Now people can follow other people's Scoutfit "closets" and receive recommendations for people to follow based on their shopping preferences.
The company already faces competition from startups such as New York-based Hukkster, which operates a similar sales-alert site. But Herrera said Scoutfit is hoping to combine the popularity of such sales alerts with coupon codes and social shopping.
She also hopes to expand the company's offerings once it has collected more data on the retailers that Scoutfit users shop. For example, Scoutfit could soon use analytics to predict when Gap will launch an online promotion or when Anthropologie will discount its holiday season inventory.
"That item is 20 percent off now but could be 40 percent off later," Herrera said. "We want to make that scientific."