Fuhu: All Grown Up
SPECIAL SECTION: Fastest Growing Private Companies
Monday, November 18, 2013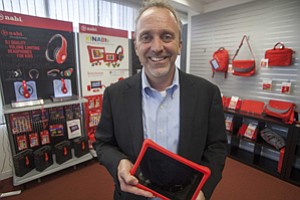 The El Segundo headquarters of Fuhu Inc. – maker of the Nabi tablet for children – are anything but childish.
The company occupies one-and-a-half floors of a nondescript office high-rise near Los Angeles International Airport. Inside, workers huddle over computers that dot Fuhu's open floor plan.
But hidden behind a door in the corner of the office is a child's paradise. This is the Fuhu showroom, where multicolored electronic devices hang from mock-retailer displays next to bright red carrying cases. Disney princesses and Kung-Fu Panda stare out from some of the packages.
The Fuhu offices reflect the strategy that Chief Executive Jim Mitchell believes has helped the company sell thousands of devices and propelled it to the top of the Business Journal's list of Fastest Growing Private Companies in Los Angeles: The company's electronics might have childish appeal, but they're built with serious technology.
"What you have is a tablet hardwarewise made for adults, but experiencewise made for kids," said Mitchell, a father of two young daughters.
Fuhu last year brought in revenue of nearly $118 million, a 96,000 percent increase over 2010. The company's astronomical surge in sales can be attributed to Nabi's growing popularity among children since it hit shelves in 2011.
The Nabi 2 – the second generation of the tablet – is a 7-inch device that runs on the Android operating system and comes preloaded with games, music, e-books and education software for children ages 6 to 10. Parents can log into the Nabi to monitor their kids' progress or use the device as they would any fully functioning tablet.
At $180, the Nabi is $120 cheaper than the lowest-priced model of Apple Inc.'s iPad. And it comes with kid-specific features such as a red bumper designed to withstand a child's rough touch. Nabi's low cost and rugged design are meant to appeal to parents who don't want to buy their children an expensive tablet that they could easily break.
Ross Rubin, a consumer electronics analyst with Reticle Research in New York, said Nabi's success illustrates the market power of kid-friendly products.
"While the iPad and the Kindle Fire have been some of the more popular models, we've really seen a number of different approaches to customizing these products for different audiences," he said. "It's a pretty sure bet these days that a child is going to want to use a tablet."
More products
Fuhu's revenue surge might seem extraordinary, but that's because the company wasn't bringing in much money until it launched Nabi.
For reprint and licensing requests for this article, CLICK HERE.
Prev Next