DODGERS SEEK BIG SCORE FROM WI-FI
Online Drive
Monday, November 11, 2013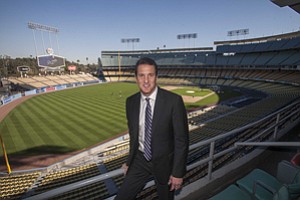 Now that the new owners, a consortium that includes basketball star Earvin "Magic" Johnson, has put a lot of money into the team, it's to be expected that they want more money.
"There should be a correlation between how much you're spending and how much revenue you bring in and the value of the franchise. They're improving their asset and should then be able to charge more," said Jeff Marks, managing partner of Premier Partnerships in Santa Monica, which specializes in sports sponsorships and marketing.
The Dodgers were top draw in all of Major League Baseball this year, with 3.74 million tickets sold. It's the first time they led the league since 2009. Attendance had plummeted below 3 million during the last year of the McCourt family's ownership.
Another example of the bounce-back is the team's full-season equivalent ticketholders, which counts partial and full-season tickets sold. As of opening day in 2012, the Dodgers had 17,000 full-season equivalent ticketholders. That number jumped to 31,000 at the beginning of 2013 and was more than 32,000 by the end of the season. The team has reached capacity for full-season ticket sales for next year and depending on renewals, it might not be able to sell more season tickets.
"We're at a historic level for our season seat base," said David Siegel, Dodgers vice president of ticket sales, who said that the prior team record was 27,000.
Also going up: ticket prices, which held steady the past two years. The biggest increases are on the field level between the bases where front-row seats will increase by $30 to $110 per ticket per game. Rows two through eight will increase by $20 to $100.
But most of the seat prices won't go up as much. More than 45,000 of the 56,000 seats will increase by $3 or less. Bleacher seats will go up $1 or $2. Season-ticket renewal packages have been sent to fans, who have until Jan. 10 to respond.
Social media
Social media options through Wi-Fi are seen as an important component to the upgraded technology at the stadium because they'll get fans more involved.
On Instagram, a social media site based on posting photos, the stadium was the seventh-most-posted site in the world, including the Eiffel Tower, according to data from the website. The team has sought out ways to create what Young calls "Instagramable moments" as fans document their visit to the stadium. And the team wants to create ways for sponsors to tie into that.
An example this season was a large sculpture of a macaroni noodle sponsored by Kraft Food Inc. Such large displays allow fans to take photos and upload them to sites such as Facebook and Instagram.
"Sponsors aren't looking to assault or bombard fans with branding or messaging in a way that fans don't want to be communicated with," Young said. "They are trying to tie into what is now a very passionate fan base."
Prev Next