DODGERS SEEK BIG SCORE FROM WI-FI
Online Drive
Monday, November 11, 2013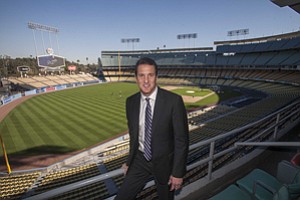 When Dodger fans go to games next year, cellphones might be their most valuable players.
The fans will be able to use them to show digital passes to get into the parking lot and stadium. They will even be able to use their smartphones to order Dodger Dogs and drinks and have them delivered to their seats.
That's because the new owners are wiring the stadium for Wi-Fi to bring the game into the digital age. Of course, it also will allow the owners to get revenue from sponsors that can send advertisements to fans' phones.
Beyond the Wi-Fi, the team's owner, Guggenheim Baseball Management, plans physical improvements to the 51-year old stadium.
"The concept was to treat the facility with all of the improvements like a brand-new stadium," said Michael Young, Dodgers senior vice president of corporate partnerships.
"We're a much better product now," Chief Executive Stan Kasten said in July when the team was planning the Wi-Fi upgrades. "We
want to have commerce at the seats. Baseball, factor in contemporary sports, said Doug Lodder, vice president of business development for Boingo Wireless Inc., a Westwood company that offers services at other stadiums but won't be working at the Dodgers' home field.
"Fans want to stay connected and to share their game experience with their friends in real time, catch up on instant replays and have a connectivity experience comparable to home," Lodder said. "Stadiums are very good at monetizing and branding the ballpark experience, from the backs of tickets to the outfield wall. The most valuable and largely untapped real estate is on fans' mobile devices."
Originally, Wi-Fi was supposed to be ready this June, but the old stadium's electrical infrastructure needed to be upgraded to accommodate the service. A new electrical power grid with seven new substations was added. That delayed the rollout to next year. The Wi-Fi is being installed in partnership with Major League Baseball Advanced Media, the Internet branch of the league that owns MLB's digital content.
The Dodgers organization is pitching sponsors with the idea of interactive displays featuring games or other entertainment in new plaza areas around the stadium. For example, the team is looking for a partner that will sponsor the plaza on the top deck that has been decorated with oversized baseballs signed by Dodgers who have earned Cy Young pitching honors.
With new components to sponsor deals, the team will be increasing sponsorship revenue. The higher rates reflect the investment that the team has made as well as the larger audience attending games and the loyalty that fans have for the team. It also helps that the team is winning; it was the Western Division champion this season.
Prev Next