Video App Lost Facebook, Focus
INTERNET: Viddy retrenching after failing to meet Web hype.
Monday, May 20, 2013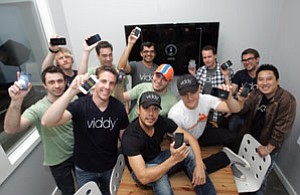 "Brett is strong on building value, but he's not a product guy by trade," O'Malley said. "J.J. is strong on product and that's what the company needs going forward."
Going forward also meant shrinking down the size of the team. Viddy whittled its staff to 16 from 30, most of whom are dedicated to product development rather than marketing. The smaller company also needed less money, which is why executives made the seldom-seen choice to give back $18 million.
O'Malley said the remaining money should last the company for two years – enough time to figure out what real, lasting success can be outside the boom-and-bust nature of Facebook.
And Rapp pointed to the ongoing rebound in users during the first months of 2013 as a sign Viddy was moving in the right direction. He said the app's new sing-ups are in the thousands and the videos are getting 20 million views a month, double what the company was getting three months ago, though still below its peak.
Viddy also has two new apps related to social media in development.
The bigger question to investors and observers of the social video category is where Viddy might fit in. Vine, for the moment, is the more downloaded app by far and is beginning to establish itself as the brand name in short-form video.
Rapp countered that the category is so new it's too early to say whether a single company has won or lost.
"We got a lot of exposure last time through and learned a lot about how people can react to that," Rapp said. "The nice thing is now we have the right amount of money to last for a while to let us see how things play out."
Prev Next