INTERNET: VIDDY RETRENCHING AFTER FAILING TO MEET WEB HYPE.
Video App Lost Facebook, Focus
Monday, May 20, 2013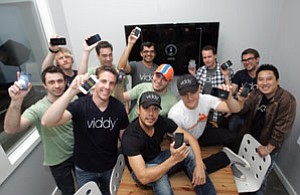 Facebook giveth
Aguhob and O'Brien co-founded Viddy 2011 with a goal of creating an app that could let people shoot short videos, throw in some effects, and then share them quickly and widely.
Aguhob told the Business Journal last year, "By the time (a video) got shared it was already past the point of relevance. That was kind of the inspiration: How can I make really great short movies of my friends, in that moment, and share it out for everyone to see?"
Growth for the first year was strong by traditional standards. By February 2012, when Viddy raised $6 million in its A round that valued the firm at about $20 million, it was already seeing 60,000 monthly active users.
At that time, Viddy began integrating with Facebook's Open Graph, which allows apps to automatically post updates into a person's time line. For Viddy, that meant any of the videos people uploaded or watched were posted in their newsfeeds for all their friends to see. If friends wanted to view a video, they'd be prompted to download Viddy's app.
That sent the company's metrics skyward. The app began reporting 300,000 new signups a day, then more than 500,000; by early May of last year, Viddy boasted more than 27 million users.
Pop star Justin Bieber signed up for Viddy in May and sent out his first video – a shirtless clip of himself – to his tens of millions of Twitter followers. Even Facebook founder Mark Zuckerberg joined the ranks of "Viddyographers" and began posting (fully shirted) videos to his Facebook page.
A few months after its robust A round, Viddy quickly brought together investors for a series B round last May. The diverse list by then included Silicon Valley venture firm New Enterprise Associates, tech entrepreneur Sky Dayton and singer Shakira.
Viddy took in $30 million in the round and the company was valued at $370 million. In a matter of months, the company's value had jumped 20-fold.
For some, that eye-popping increase was the latest example of a hype-fueled tech market that had just seen Facebook's pricey acquisition of Instagram.
But to Battery Ventures' Brett O'Malley, who serves on Viddy's board and has invested in the company in each of its funding rounds, the biggest worry was that increased traffic would make the company lose focus. It didn't help that the app, he said, simply wasn't ready for all the attention.