Hoteliers Find Rooms in L.A.
HOSPITALITY: Developers check into projects amid recovery.
Monday, May 13, 2013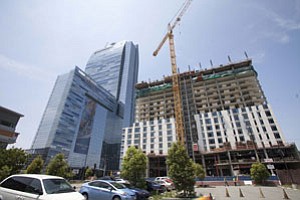 "There are just a lot of tired properties out there and I think people are looking for that kind of hipper, cooler brand. Once you stay in a hipper, cooler brand hotel, you can't go back," he said.
The new Shade Hotel will include 54 rooms and a conference center that can hold up to 60 people, an event space for up to 150, a rooftop pool, and a restaurant and lounge.
Reluctant lenders
Meanwhile, Wagstaff is ready to move forward as well.
He acquired his five-acre site at Marine Avenue and the 405 freeway in Redondo Beach in 2009 from a small private developer who had stalled on a proposed hotel project as the economy plummeted.
After gaining entitlements for his project a year later, Wagstaff was forced to wait three more years before he could find financing.
"Traditional financing was not available," he said. "I had some funny finance discussions with lenders in 2010 where literally I had one lender tell me if I could prove to them that we had enough cash on hand that we didn't need a loan then they would make a loan. Construction hotel markets across the country were completely decimated."
To finance the hotel, Wagstaff received a $41 million nonrecourse construction loan and provided equity for the balance of the cost. He was also able to strike a deal with the city of Redondo Beach that sets up a city-controlled $8.5 million fund, created with the proposed hotel's bed taxes over several years. Wagstaff can borrow from that fund in the future for capital improvements or operating costs.
Both hotels, a Hilton Garden Inn and Residence Inn by Marriott that together will have 319 rooms, are slated to be completed in a year. Wagstaff said he plans to seek approval to build at least two more hotels at the site once these first two are completed.
Further inland, downtown Los Angeles is seeing a notable boom in hotel development as well.
The area, home to the Los Angeles Convention Center, is considered underserved by hotel rooms. Competitive cities such as Las Vegas and Phoenix have up to five times the number of hotels to serve travelers and convention attendees. But the city of Los Angeles – and obliging developers – are trying to change that with the approval of at least five new hotels in the area.
That's one reason Marriott is attracted to the downtown market. It has three hotel projects under way or planned there; the two under construction at L.A. Live will add 392 rooms to the market.
Alison Cumberland, vice president of lodging development in the West for Marriott International Inc., said a number of factors make downtown attractive to her company.
"The renaissance of downtown, the fact that your visitors are forecast to increase and that it's grossly underserved by hotel rooms make it attractive," she said.
Prev Next