Hoteliers Find Rooms in L.A.
HOSPITALITY: Developers check into projects amid recovery.
Monday, May 13, 2013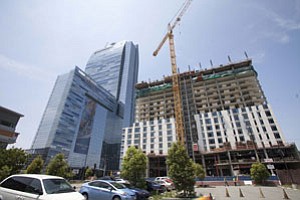 Visitor numbers are projected to increase again this year and the board hopes it can lure 50 million visitors to Los Angeles by 2020. If those gaudy numbers are reached, the additional visitors are projected to add $14 billion in economic activity to Los Angeles, for a total of $44.5 billion. An additional 68,000 jobs could be added to the L.A. region's workforce for a total of 392,000 jobs supported by the tourism industry.
More hotel rooms are key to handling – and encouraging – that expected wave of visitors, according to Ernest Wooden Jr., president and chief executive of the board.
"We applaud the hotel development," he said. "They are being developed because there's money to be made in developing them. Our numbers tell us we could absorb 5,200 rooms without affecting occupancy."
Expansion climate
Robert Feist, vice president at Irvine hospitality consultancy Atlas Hospitality Group, said hotel development was so sparse during the recession that his company actually stopped tracking hotel development from 2009 until last year.
"The development pipeline shrunk to nearly nothing from '09 to '11," he said. "But those fundamentals of (revenue per available room) are increasing in markets like West L.A. and in parts of downtown, and are now approaching prerecessionary levels. It's justifying a pickup in development."
Indeed, revenue per available room at the end of last year was up 40 percent from the previous year for downtown Los Angeles to $98 a night and up 57 percent for the Westside to $193. By comparison, it was up 53 percent to $138 in the Bay Area, according to industry watcher Smith Travel Research.
In L.A.'s coastal communities, the high barriers to entry and difficulty earning approval for development projects – time lines can run as long as 10 years – means demand will continue to outpace supply, Feist said.
That gives leverage to those in a position to move forward with new projects.
Zislis broke ground on his second boutique Shade Hotel, at 655 Harbor Drive in Redondo Beach, in March.
He opened his first Shade Hotel seven years ago in Manhattan Beach. The longtime restaurateur had wanted to create a restaurant at the site but struck a deal with the city to open a hotel instead.
It's worked out for him. He said occupancy rates the last year were more than 95 percent year-round, while nightly room rates have surpassed $300.
He said the strong numbers he's seeing at that location inspired him to pursue his second one and he's already seeking a site for a third. He thinks his boutique brand is giving him an edge over the competition.