Ad Business Hopes to Stand Out by Blending In
INTERNET: Nativo styles 'native content' to match websites.
Monday, May 6, 2013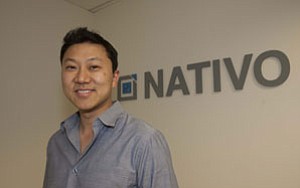 One of the obstacles faced by native advertising is almost cultural, especially for publishers who worry that readers will be confused as to what content is editorial and what is advertising. (Native can be categorized under the hybrid term "advertorial," a longtime scourge in journalism).
There have been controversies. Last year, online news magazine TheAtlantic.com came under fire when people mistook an ad for the Church of Scientology extolling the virtues of the organization as part of the site's editorial content. The Atlantic quickly removed the ad and issued an apology.
Choi strongly advises clients to make it clear that native ads are different from the regular content. For example, he recommends placing a different color in the background of the articles and shutting off the comment section (something the Atlantic didn't do).
But the biggest problem might be cost. As publishers try to convince brands to spend more on the Web, they're fighting against fragmented audiences and inefficient spending.
Frank Addante, founder of West L.A. ad tech firm Rubicon Project, said rolling out an online advertising campaign is already far more expensive than a television one. And that's not even for native ads, which are labor intensive and narrower in scope.
"If you're trying to reach a large audience with a native ad, you've got to connect to 10 to 20 different sites and the different formats create different complications," Addante said. "The cost of deploying it might be greater than the benefit."
He acknowledged, though, that it's still early days with native ads and most new technologies are expensive at first.
Choi's hope is companies like Nativo, with its focus on automating the native ad process, can help with that cost. And even as it grows in popularity, that doesn't mean the format will be the only option available.
"This is a new category and it's not going to make another category go away," he said. "But looking at how it solves mobile, you can't dispute the fact it's going to be very important."
Prev Next