INTERNET: NATIVO STYLES 'NATIVE CONTENT' TO MATCH WEBSITES.
Ad Business Hopes to Stand Out by Blending In
Monday, May 6, 2013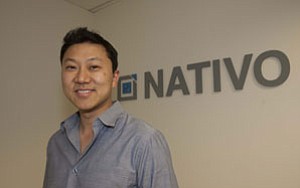 There's a small problem with online ads: People hate them.
Actually, not everyone hates them; many just ignore them. And that's bad news for businesses whose livelihood comes from people clicking on ads.
As rates for online ads decline, there's been a push for new strategies that can upend the traditional model and re-engage the audience.
Nativo Inc., an ad tech firm in Long Beach, is hoping to cash in on the latest wave of hype and controversy known as "native advertising," or ads that don't feel like ads.
Rather than pop-ups or preroll videos, native ads are designed to fit seamlessly on a website, casting their paid material in fonts, designs and even tone that mimic the content that drew the reader to the site in the first place. That, in turn, makes people actually want to click on them.
It's that link on Forbes.com that looks like every other headline but actually leads to sponsored post by Oracle. Or that tweet that comes up in your Twitter feed promoting a hair care product.
Nativo's software lets Web publishers get in on the native ad game and deploy the paid spots across multiple sites. The concept has intrigued venture capital investors; the company recently raised $3.5 million in a series A round led by Santa Monica's Greycroft Partners.The problem with old-fashioned online advertising, said Nativo founder Justin Choi, is the shotgun approach websites have historically taken. After years of visual onslaughts, web surfers have simply become numb.
"The banner ecosystem has not been good for publishers. And it's only been good for users because they can ignore it," Choi said. "Native is a user-initiated engagement that actually tells a meaningful message."
By making an ad's content more relevant than just another banner, a person might not only choose to consume it, but might even share it, which is a deeper (read: more lucrative) experience. People working in online publishing say native ads can command five times the rates as their non-native cousins, if not more.
The integrated nature also solves a big problem of advertising on mobile devices, where the screen's limited real estate has bedeviled publishers.
Brian Fitzgerald, co-founder of Evolve Media LLC, has used Nativo's software across his company's wide network of sites. Though it is no longer a client, Evolve still participates in native advertising and Fitzgerald sees the virtue of Nativo's commitment to the technology. To an extent.
Prev Next