Buzzmedia Rebrands, Launches Teen Site
Monday, March 25, 2013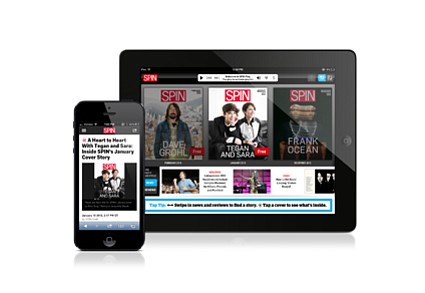 After a round of layoffs that cut staff by 20 percent, Buzzmedia is putting a new spin on things.
The Hollywood digital media company, which operates a network of 45 pop culture websites, announced Monday it had changed its name to SpinMedia.
The name comes from Spin Magazine, the music publication Buzzmedia bought last year. The company stopped the print publication but maintained the brand's music website.
"Spin is a brand that is synonymous with cutting edge, contemporary culture," SpinMedia Chief Executive Steve Hansen told the Business Journal. "We think we needed to do a better job of communicating to our ad partners what we are really all about. I think Spin can extend beyond music into lifestyle and contemporary culture."
The name change comes after a round of layoffs in late February, which Hansen described at the time as part of a company restructuring. SpinMedia, which has about 200 employees, is in the process of hiring about 25 more in the marketing, product, technology and editorial departments, including general managers for its portfolios of music and celebrity websites.
SpinMedia on Monday also announced that it has closed the $15 million round of financing that the Business Journal first reported on in February.
The company has also rolled out a website focused on celebrity news for tweens. Called Hearts & Foxes, the site consists of short stories designed to be consumed on mobile devices and is running on a new SpinMedia technology platform. Hansen said the technology behind the site, which is also being tested on its celebrity-driven Celebuzz site and music news site Idolator, is meant to drive more audience engagement and more effective returns for advertisers. It's all part of Hansen's plan to turn SpinMedia into a leading pop culture network.
"We have to take the company to the next level," Hansen said. "We've taken a few meaningful steps down the path and we've got many more to come."