Fresh Script
Talent agency CAA tries role of tech startup investor
Monday, March 11, 2013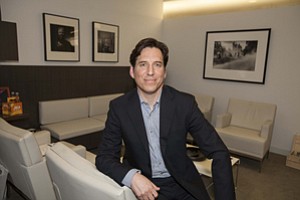 "We sit at this nexus where we're able to help bring early stage companies to life through our relationships and other strategic partnerships," Weinstein said.
That nexus is still dominated by a traditional agency-as-talent broker approach, marrying entertainment and technology and increasing the role celebrities have in stamping companies with their imprimatur.
The rise of YouTube as a platform for original videos in the past few years has also provided an opportunity for the entertainment industry to have a presence in tech. West L.A's AwesomenessTV, one of YouTube's funded partner channels, was created by a UTA client, director Brian Robbins.
While agencies have been keen to play their traditional roles of deal makers, they seem much less comfortable as investors.
Of the agencies the Business Journal spoke with, none were willing to discuss their financial stakes in the startups they co-founded, perhaps with good reason.
Agencies have had a checkered history with venture capital funds. In 2007, CAA was to put together a fund significantly larger than the current one – as high as $200 million, according to several reports. That fund, which was to be led by Menlo Park's Draper Fisher Jurvetson, never came together. William Morris had a $20 million venture capital fund, the Mail Room Fund, and made some investments. But in 2011, two years after the agency merged with Endeavor, the fund quietly ended.
Paul Bricault, who co-managed the William Morris fund, conceded it never reached its full potential, a fact he attributes to a confluence of outside factors. But he maintains Mail Room Fund had the right structure and experienced fund managers – unlike many other agency-led investment efforts
"It's been more of a dilettante approach in the past," said Bricault, now a partner at Santa Monica investment firm Greycroft Partners. "To make the fund work, you need dedicated investment personnel. Without that focus, most of the efforts to be in the venture capital game have not borne a lot of fruit."
Part of the problem might arise from a potential conflict of interest that agencies face when investing in projects. Having a vested interest in a company might not always benefit a client – would an agent recommend an actor get involved with a startup the agency owns, even if it's a losing venture?
An old franchise agreement among the agencies and the Screen Actors Guild limits the commissions and ownership stake agents can have in enterprises. The agreement, which expired in 2002 and has not been amended or renewed, does not say much about options for investing in startups.
While the agencies are still uneasy talking about startup investing, they are much more comfortable talking about playing a role that's closer to the wheelhouse: making deals.
Yanover emphasized the experience that CAA has in terms of negotiating deals and bringing the right parties to the table. Just as Hollywood agents see validation in a big studio to finance a movie, so too is getting a large investment firm to back a startup a familiar sign of success.
"For us to be investing money from our balance sheet is, to me, less a proof of concept than getting a bunch of big companies that have been tremendous investors on board," he said. "It's a lot more substantial and will likely have a much higher success rate than us pouring money of our own."
Prev Next