AUTOMOTIVE: CODA MAY SEEK SALE AS FIRM GRINDS GEARS.
Bad Buzz For Electric Sedan
Monday, March 11, 2013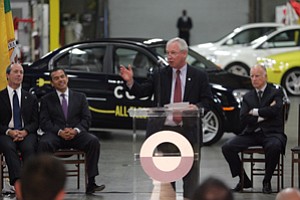 Abysmal sales, mounting debt and a lack of new investors have L.A. electric car maker Coda Automotive Inc. looking for a way out.
The company has hired Century City investment bank Houlihan Lokey to advise it on financial options. That could mean seeking new investors, selling the company or its battery division, or even filing for bankruptcy. Neither Houlihan nor Coda executives would say what's on the table.
"The company is reviewing strategic options to put it on a more sustainable path," said Coda spokesman Matt Sloustcher. "I can't comment on anything specific at this time."
L.A.'s taxpayers are among those with a stake in the company, since the city gave it more than three-quarters of a million dollars to move here. Coda was supposed to create hundreds of local jobs, but that hasn't happened.
Coda hired Houlihan late last year, about the same time it suspended vehicle production and laid off about 50 workers – steps taken to preserve cash as the company unsuccessfully sought new investors. The company had about 250 U.S. employees at its peak, but now has about 170, many of whom are furloughed.
Coda, led by former General Motors Co. executive Phil Murtaugh, raised more than $300 million from investors since it was founded in 2009, but needed more cash to pay for operations, particularly as vehicle sales never took off. Sloustcher said the company tried to get more than $100 million in additional investment, but it never materialized.
"The company has experienced cash-flow issues as it's had trouble closing late-stage funding rounds," he said.
Meanwhile, the company owes millions to its suppliers. UQM Technologies Inc., a publicly traded company that sold electric motors to Coda, said it has more than $8 million in Coda invoices and undelivered inventory, and has already written off some of that amount.
UQM, based in Longmont, Colo., took an impairment charge of $3.8 million in the quarter ended Dec. 31, saying, "There is substantial uncertainty regarding Coda's ability to honor their obligations."
Grocery getter
It's quite a fall for a company that city leaders wooed in hopes that Coda would make good on the claim it would create up to 650 jobs in Los Angeles and the goal of selling 50,000 cars by 2015.
The city shelled out more than $800,000 in subsidies to get Coda to move from Santa Monica to a site on Fairfax Avenue just north of the 10 freeway.
Prev Next