Flower Delivery Startup Blossoms With Seed Funding
Tuesday, June 25, 2013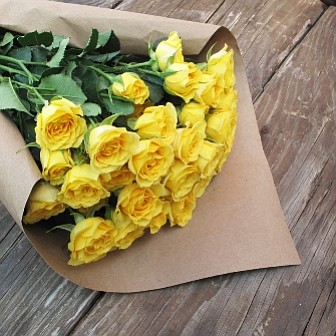 Investors might be cooling on subscription e-commerce companies, but there's one startup that has still grabbed venture capital interest.
The Bouqs, a Venice online flower shop, announced Tuesday that it has raised $1.1 million in seed funding from Quest Venture Partners in Menlo Park and Siemer Ventures in Santa Monica.
Angel investors also participating in the round include Mich Mathews, former chief marketing officer at Microsoft Corp.; Dennis Phelps, a partner at Institutional Venture Partners; Andy Dunn, founder of e-commerce company Bonobos; and Brian Spaly, founder of online fashion company Trunk Club.
Bouqs offers a bouquet of flowers for a $40 fee, including shipping and handling but excluding tax. Doubling the size of the bouquet adds $10 to the cost.
The company also offers a variety of subscription plans. The NeverForget plan sets up an automatic flower delivery for all major celebrations, such as a birthday or anniversary. The JustBecause plan sends flowers on randomized days throughout the year, and the Regular Blooms plan sends fresh flowers on a weekly, bi-weekly or monthly schedule.
Chief Executive John Tabis said the JustBecause plan was designed specifically for men like him.
"I'm the type of guy that wants to be the hopeless romantic and bring flower home twice a month," he said. "But it turns out in reality that I never remember. This is a reminder service."
The first two subscriptions are meant to help forgetful people remember to send flowers to their loved ones. The Regular Blooms plan works well with, for example, offices that want fresh flowers in their lobbies.

Eric Manlunas, managing partner at Siemer Ventures, said he was initially wary of another subscription e-commerce business, but liked Bouqs' new approach to the model.

"When I first heard about Bouqs, I assumed it was a vanilla subscription business," he said. "But it makes a lot of sense to give your audience a lot of different subscription alternatives. John and his team have certainly architected the business in a way that gives people a reason to come back."
Tabis, a former ShoeDazzle employee, launched Bouqs last year with JP Montúfar, whose family runs a flower business in South America. The company's goal is to simplify the flower supply chain process to bring low-cost buds to people's doors.
Bouqs sources all of its flowers from the Cayambe volcano region in Ecuador. Once the flowers are cut, they are hydrated for 12 hours and are shipped two days after the order was placed. The bouquet should arrive five to seven days after the order.
A bouquet delivered to the Business Journal had a few broken stems and some wilted flowers, but the buds generally survived the trip.
Tabis said a long delivery time is one downfall to offering up cheap bouquets.
"We give you more for higher quality but less money," he said. "But we don't deliver overnight or same day. That's the trade off."

The company plans eventually to decrease its delivery time. Meanwhile, it will use the seed funding to expand its team. It will also increase its marketing efforts to compete against established brands such as FTD and 1-800 Flowers.
Manlunas said the company has an advantage against large flower businesses because it doesn't work with local florists, allowing it to charge less for its buds.
"A lot of the big guys are lead-generation models," he said. "There are a lot of inefficiencies in the middle. By controlling the process, you can eliminate a lot of that and pass on the savings to the consumers."