Digging In Again
BANKING & FINANCE QUARTERLY: Banks getting back into construction loans – very cautiously.
Monday, June 24, 2013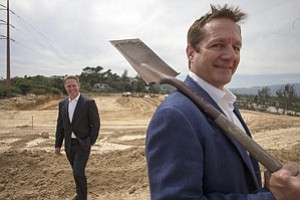 Developer Armin Behravan was used to hearing the word "no."
It was late 2010, and he and a few partners had just paid cash for a four-unit condominium complex in a good part of Santa Monica. They had plans to demolish it, build new units and have them on the market this summer.
"We saw we could buy the property at the bottom, then by the time we permit and build it, it would be two or three years later," Behravan said. "We bet the market would be back by then."
But he couldn't find a bank loan for construction – and not for lack of trying.
"We went to probably 30 banks," Behravan said. "We thought we were in a pretty good position to get a loan, but the banks were not willing to do anything."
That's been a common refrain from local borrowers for the past few years, but one that's starting to change. In the first quarter, construction lending by Los Angeles County's banks increased for the first time since 2007. But even as lenders get back into the game, they're super cautious.
"We're just re-emerging into that market after getting pounded a little bit," said Douglas Spencer, chief executive of tiny Fairfax District lender Gilmore Bank, which last year gave Behravan the loan to build the condos. "We felt like this was a place we could play and make some money – with all the conservative caveats we learned in the recession."
Since 2007, when construction lending peaked, no other type of lending by community banks has fallen so far. At the end of that year, the county's banks held nearly $16 billion in construction loans – 17 percent of their total loan portfolios, according to the Federal Deposit Insurance Corp. That was nearly twice the level of construction loans banks held at the end of 2000.
After falling steadily for five years, construction loan balances totaled just about $2 billion – or about 2 percent of total loans – at the end of last year. In the first quarter of this year, those numbers increased for the first time, though by a meager $7 million.
The uptick shows banks see an opportunity in issuing construction loans, which have higher yields than less risky loans. But it's an opportunity they're only tiptoeing toward.
Banks want more money down, more collateral and more assurances of tenant demand for new buildings. What's more, many banks simply plan to lend less.
For reprint and licensing requests for this article, CLICK HERE.
Prev Next