Drone Software's Future Sky High?
TECHNOLOGY: Local firm sees commercial uses for UAVs.
Monday, June 17, 2013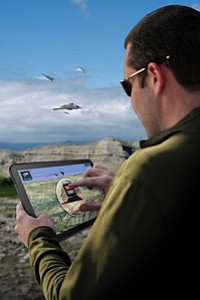 A few entities have been granted provisional licenses for domestic drone use by the FAA. Police departments have used it in limited cases, though not without attendant complaints from privacy advocates, such as the American Civil Liberties Union.
UCLA's Villasenor said some of the privacy fears are well-founded.
"The most significant and obvious concern is that people will use them to get images into backyards and into windows that would otherwise be difficult to get," Villasenor said.
Despite those worries, he doesn't believe it will significantly hold up the FAA's march toward lifting the restrictions on domestic drones.
Drone advocates also counter that the fact the technology was used on the battlefield has given it an unfair rap.
"Some critics don't understand that they're not going to be used as it's used in theater," said Melanie Hinton, a spokeswoman for drone advocacy group AVUSI. "It's just another tool that can become part of everyday use."
Even when the government begins to loosen up the airspace and perhaps even the roadways for unmanned vehicles, it will be some time before the larger machines will be able to take to the air. The first drone for a fire department is more likely to be one equipped with a heat-sensing camera rather than a large aircraft loaded with water.
Meantime, Paez wants DreamHammer to galvanize a new industry of software builders for the Ballista platform, ready to control our new mechanical workforce.
"I'd love to see an army of app makers, who have used platforms in the mobile technology world start to make apps for Ballista," Paez said. "It's a whole industry for developers that they didn't ever have before."
Prev Next