Drone Software's Future Sky High?
TECHNOLOGY: Local firm sees commercial uses for UAVs.
Monday, June 17, 2013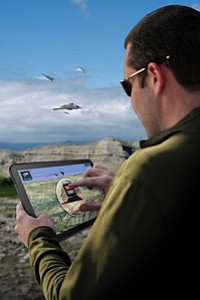 Government built
When Paez, 39, began DreamHammer in 2000, it was by no measure in the business of drones. Its initial clients were in the private sector, where the firm built internal technology systems. When that business slowed, it moved exclusively into government work.
DreamHammer has since grown to 70 employees in offices around the country, including Hawaii and Virginia, and pulls in $7 million annually from government contracts. Paez created a division to develop the Ballista software, financed by cash from the original IT business as well as angel investments. Since launching the project in 2009, the company has raised $6 million for its development and has plans to raise an additional $10 million in an upcoming series A round from some Silicon Valley venture firms.
In the time that DreamHammer's core business was essentially being the federal government's IT guy, things changed in the way agencies dealt it money. Specifically, there was less of it.
In 2009, facing cutbacks that could threaten his top line, Paez saw an opening for a new type of software system for government agencies. And one that was cheaper.
In the past, when the military needed a piece of software, it contracted a company to build it from the ground up. It's an expensive way of doing business, Paez explained, that makes an otherwise reasonably priced commodity skyrocket in cost.
"By that logic, a single Toyota Prius would cost $2 million instead $25,000. It's insane," he said.
The winding down of the wars in Iraq and Afghanistan, coupled with recent federal sequestration cuts, forced the government to rethink its spending practices. The idea of purchasing an off-the-shelf product for far less money suddenly became appealing.
The government's new spendthrift approach also coincided with the military's expanded use of unmanned aerial vehicles.
There are a variety of companies, including Monrovia's AeroVironment Inc. and San Diego's General Atomics, that build drones, and each have proprietary operating systems and requirements for their remote operators. An opportunity existed to build an off-the-shelf UAV software that could allow one person to control any number of drones regardless of the manufacturer, and all at once.
Executives of DreamHammer said government agencies have already paid $2.3 million in licensing for the beta version. But the real market might come with the commercial release.
"There's been a prolific use of drones in the military but it's been expensive to use," Paez said. "We saw that the future potential market for drones and robots is in the commercial world."